Sustainability report 2021
Social
Hektar REIT's community investment principles are aligned with the focus areas of building well-being and developing local communities. Closely aligning the business strategy with community investment produces better outcomes for the REIT and local communities.
We help protect the socioeconomic welfare of the community through zakat collections. Zakat is an Islamic religious "tax" distributed to the poor, needy and other beneficiaries. Eligibility criteria are derived directly from the Qur'an. In March 2021, Pusat Pungutan Zakat Wilayah Persekutuan offered Hektar REIT to be a distributor to receive Zakat Wakalah amounting to RM14,994.00.
We also support the local community through local hiring. Providing local jobs helps develop the local economy and enhances their living standards. Our hiring practices consider employing underprivileged groups such as those from deprived backgrounds and in 2021, considered the hiring of locals who had lost their jobs due to the pandemic. Hektar REIT also offers apprenticeships and graduate placement programmes to address youth unemployment.
The global pandemic has shaken Malaysia and the rest of the world. The Movement Control Order (MCO), enforced by the Government, affected many individuals and suspended businesses. Vulnerable members of the community, such as the B40 Group and daily income earners, were particularly affected. Fellow front-liners were called to duty and had been working around the clock during the pandemic.
In 2021, our community investment contributions focused on alleviating the socioeconomic challenges that our tenants and the local community faced in light of the pandemic and MCO.
A total of RM55,000 was spent on donations and community investments to registered not-for-profit organisations in 2021.
"Let's Share Because We Care"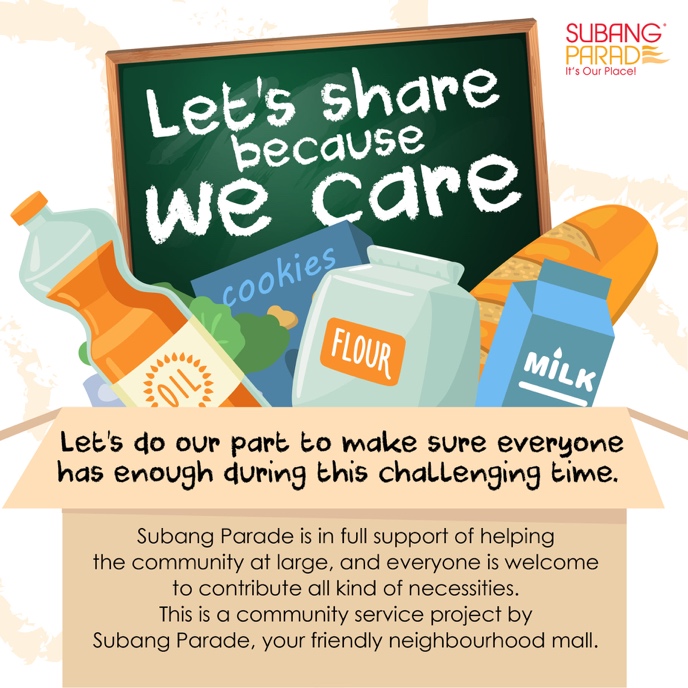 When the pandemic started, we pulled together to care for our neighbours. Subang Parade established a food bank, which provided essential relief efforts during the pandemic. The Mall collaborated with YB Michelle Ng Mei Sze, the assemblywoman of the Selangor State Legislative Assembly (Ahli Dewan Undangan Negeri) for Subang Jaya, on this initiative. The collected items have been distributed to 1600 Subang Jaya residents to date.
Meanwhile, Wetex Parade introduced a CSR Dropbox in collaboration with YB Syed Saddiq Syed Abdul Rahman, the Member of Parliament for Muar. The public could donate daily necessities to families affected by the pandemic. Wetex Parade and our hospitality asset, Classic Hotel, executed similar food aid, donation Drop boxes and distribution.
Several of our properties also prepared, packed and distributed food for 150 Food Banks during Ramadhan as part of the Food Bank donation drive. The recipients broke fast with the prepacked food and received groceries and donations.
Tautan Mesra
Wetex Parade and Classic Hotel organised a donation drive to collect necessities for the elderly in Pusat Jagaan Sinar Kasih, Muar, Johor, in collaboration with Moet Glory Services Sdn Bhd.
Contribution to frontliners
The COVID-19 pandemic has been challenging and placed significant pressure on the national healthcare system. Our healthcare workers continue to devote their time and energy to contain the pandemic. We are humbled by their immense sacrifice, invaluable dedication, commitment and unwavering effort in managing the pandemic. Often, they risk their own lives for the benefit of the people, community and the nation.
Mahkota Parade worked with Seleria Food Court to donate food and beverages to frontline workers at Balai Bomba Kubu, Hospital Melaka, Balai Polis Melaka Tengah and Balai Polis Pelancong. These donations were made in appreciation of the frontliners' sacrifices, including being separated from their families during the festive season.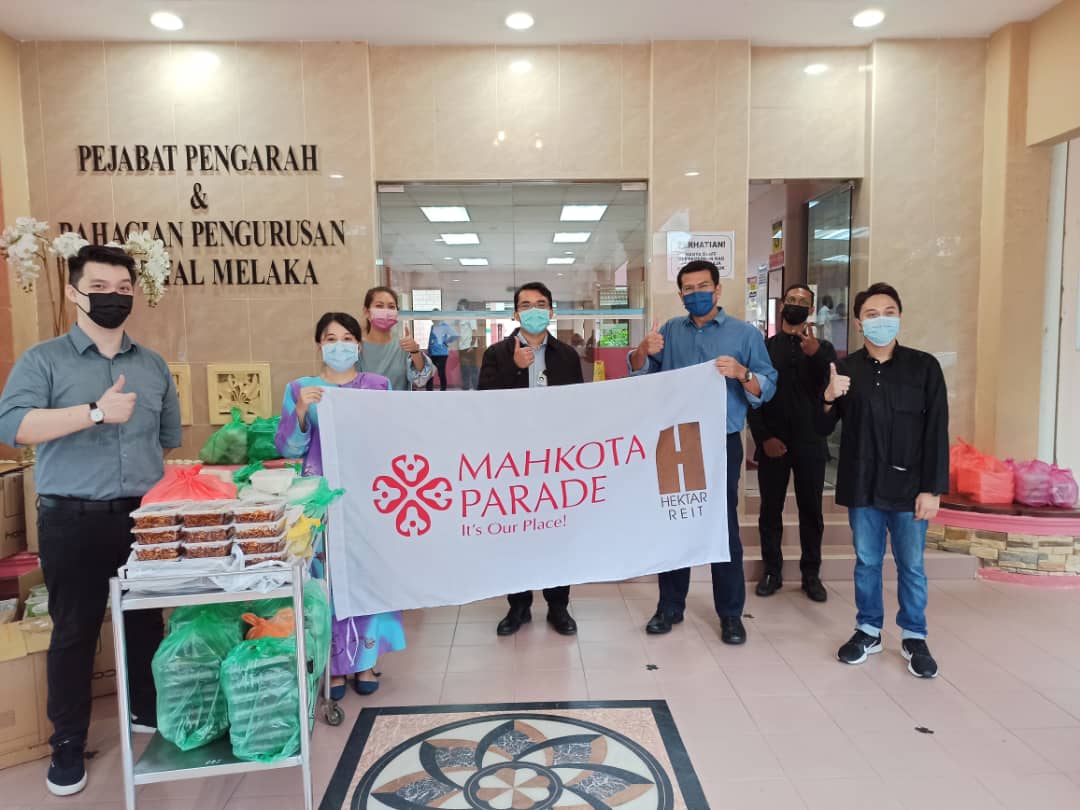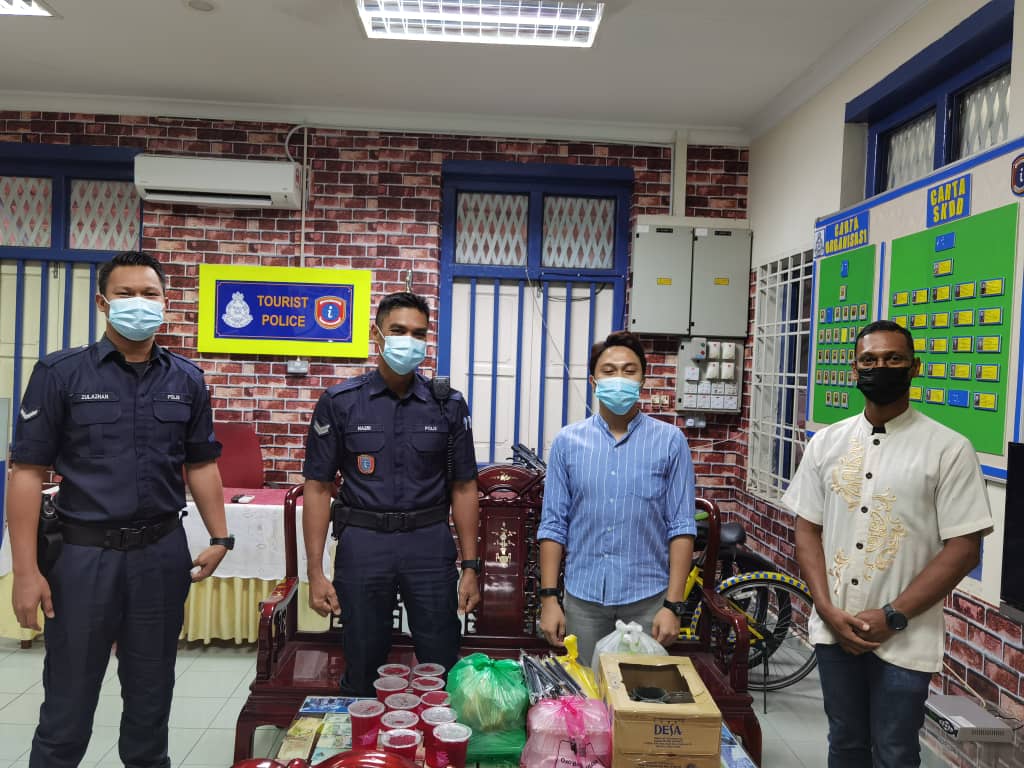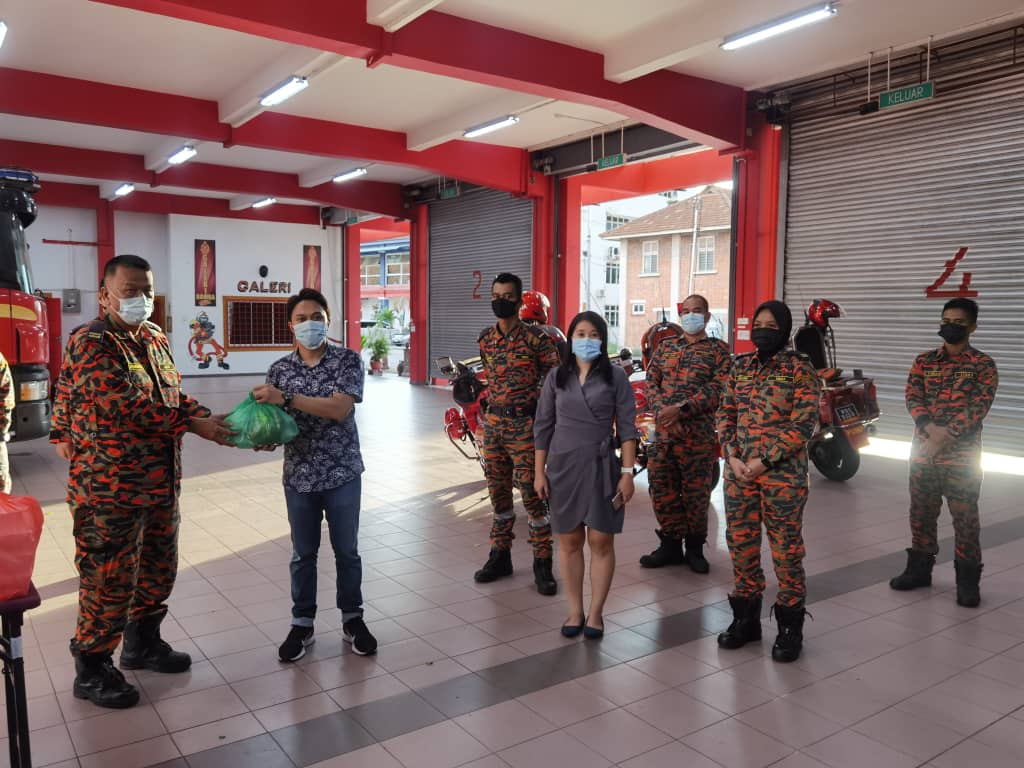 Kempen Kraftangan Malaysia
Mahkota Parade held a 'Kempen Kraftangan Malaysia', or Malaysian Handicraft Campaign, from 6 December 2020 to 2 May 2021. This event allowed 22 local craftsmen to promote their design crafts. The younger generation also learned about Malaysian handicrafts and explored the unique works of handicraft in the country.
Peaceful Blessings 2021
Wetex Parade partnered with Pusat Khidmat Rakyat Parlimen Bakri and Sunshine World Construction in welcoming the year of the Ox. The collaboration helped an impoverished local fisherman who could not repair the roof of his house. We completed the repair work in five days and were happy to spread joy by helping those in need during the festive season.
A warm and blessed Aidilfitri
The Management teams of Wetex Parade, Classic Hotel and MOET Glory Services Sdn Bhd visited an old folks' home in Pusat Jagaan Sinar Kasih on 5 May 2021 in conjunction with the 2021 Aidilfitri celebration. The representatives in attendance distributed green packets and donated food, reusable face masks and necessities to the elderly.
Central Square also launched 'Tabung Syukur Ramadhan' to raise funds for purchasing groceries and prepacked food for those in need. The Mall also held a food giveaway, distributing 250 packs of 'ketupat' to shoppers for 5 days in Ramadhan.
Kulim Central celebrated the season of gratitude and giving by packing and distributing 400 packs of 'bubur lambuk' to the surrounding community for two days during Ramadhan.
Blood donation drive
According to the Red Cross, someone needs blood every two seconds. It is essential for surgeries, cancer treatment, chronic illnesses and traumatic injuries. Whether a patient receives whole blood, platelets or plasma, this lifesaving care starts with one person making a generous donation.
Wetex Parade collaborated with the following organisations on running blood donation drives in 2021:
The Blood Bank of Hospital Muar
Persatuan Liu Gui Tang Johor Utara
Koperasi Perniagaan Guru-Guru Muar Berhad
The National Blood Bank
Kulim Central and Segamat Central held similar blood donation drives in most months of 2021.
We saw 5,887 donors including our employees participating in the various blood donation drives organised at our properties in 2021. We extend a token of appreciation to those who volunteered and took part.
Back to School
Hektar REIT has a policy and is committed to protecting children's rights. We uphold the Child Act 2001 (Act 611), which is the country's legislation for the protection and care of children.
Every child has a right to education. Going back to school is exciting for all children but can burden some parents. School supplies such as stationery and school uniforms can be expensive.
With that in mind, Central Square took part in the 'Back to School' programme by extending RM100 cash vouchers to 140 underprivileged or deserving pupils to assist them to purchase stationery and school uniform in preparation for the new school term.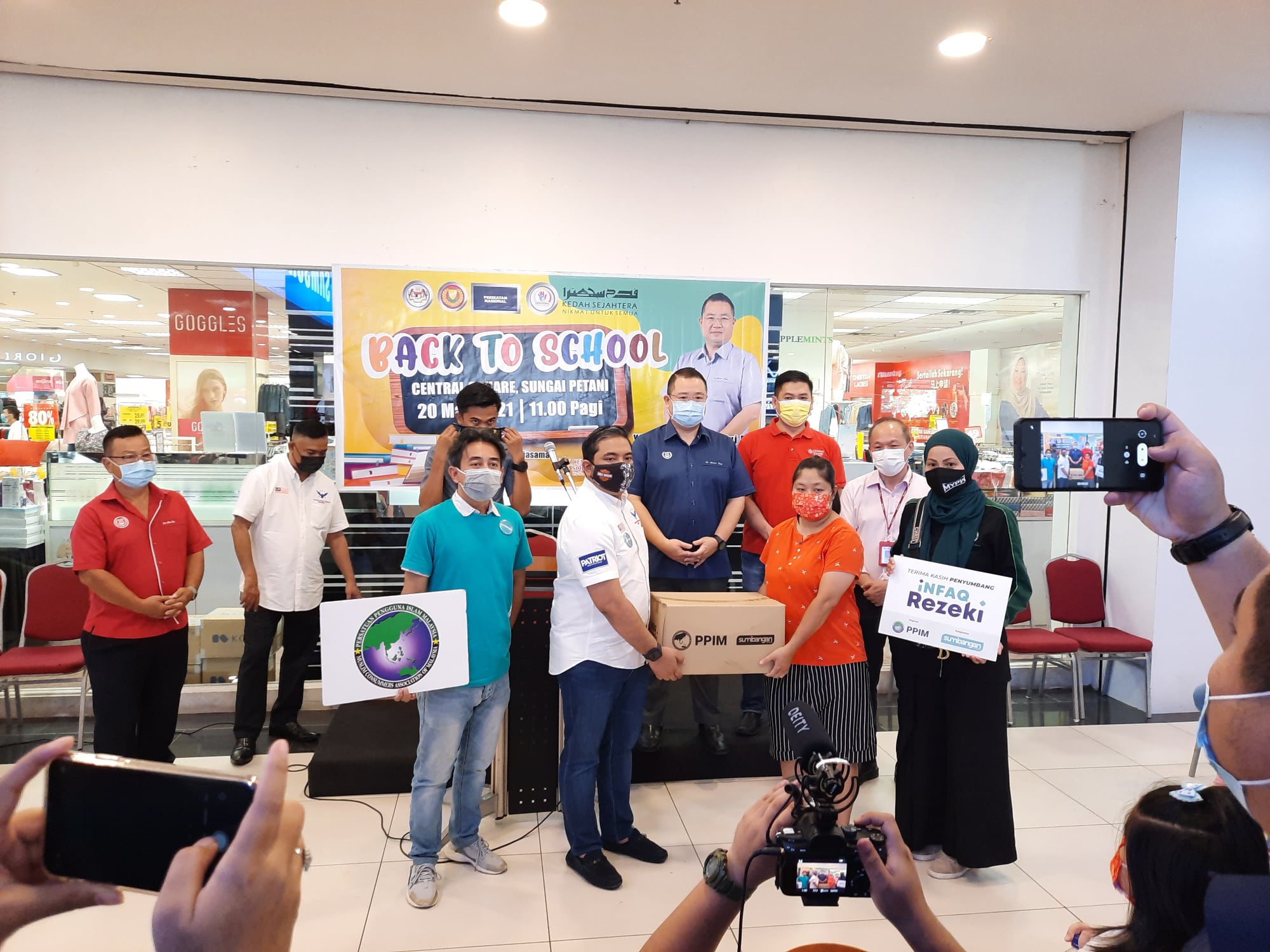 COVID-19 donation
The Malaysia REIT Managers Association (MRMA) donated RM100,000 in 99-Speedmart cash vouchers to alleviate the suffering of local communities in Selangor and Kuala Lumpur. The recipients could exchange the vouchers for food, groceries, personal hygiene products and other essential goods.
These communities were adversely affected by COVID-19 and the various resulting lockdowns since 2020, including the EMCO in Selangor and some localities in Kuala Lumpur.
The money was raised by 23 MRMA members, including Hektar REIT. We will continue to stand together with our industry peers in supporting the community whose livelihoods and survival have been jeopardised.
Fifty portions of prepacked food were donated to taxi drivers around Kuala Muda at Central Square's taxi station as part of our 'Sumbangan Bakul Makanan' Programme led by YB Robert Ling the assemblyman in the Kedah State Legislative Assembly (Ahli Dewan Undangan Negeri) for Sidam, Kuala Muda Negeri Kedah. Central Square also hosted the distribution programme of 150 portions of 'oden' to shoppers via a drive-through facility. This initiative helped the people cope with the lockdown crisis.
Central Square also held a Malaysia Day Charity Programme in collaboration with Jabatan Bomba & Penyelamat Negeri Kedah to distribute donations contributed by shoppers to Sungai Petani residents.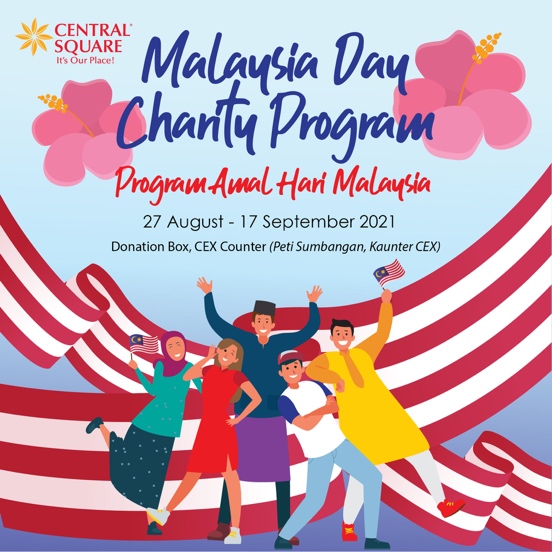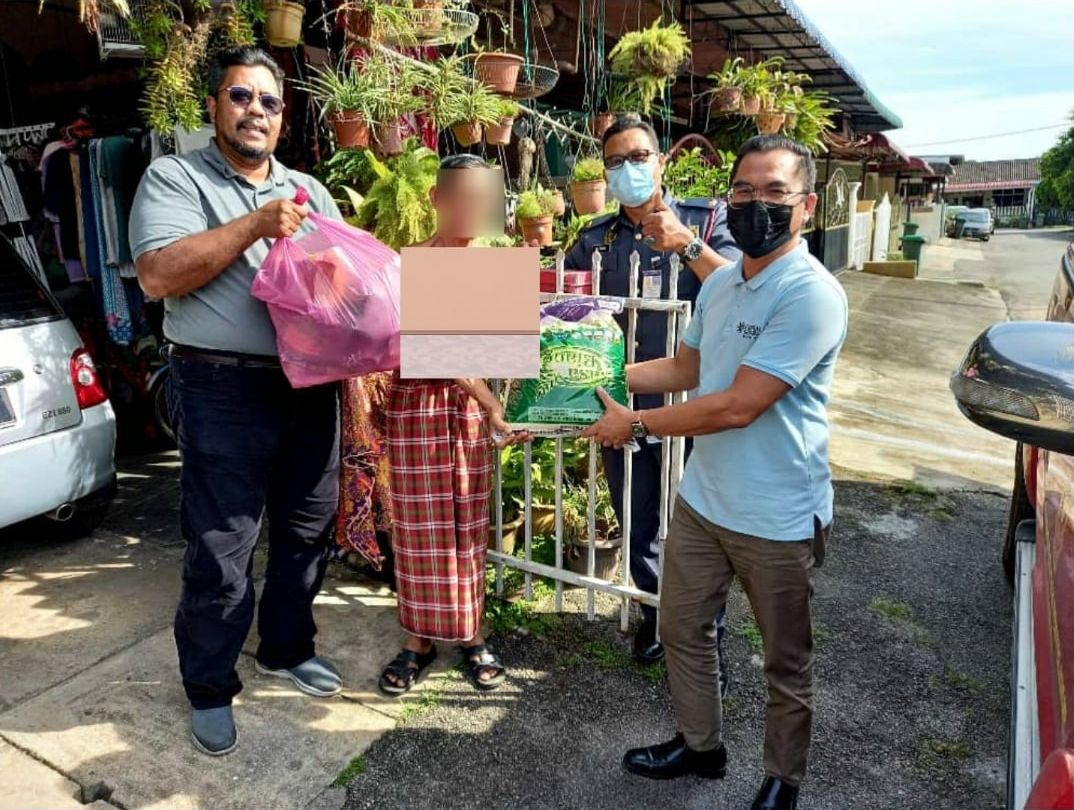 Unity in diversity
The pandemic has served as a stark reminder that shared prosperity depends on the collective health, safety and well-being of those around us. Employees are our greatest asset; our success is mainly due to their commitment, motivation and talent. We are proud to stand by employees during these difficult times as we navigate this crisis together.
Labour standards
Hektar REIT's success is dependent on having a world-class workforce and a culture defined by its corporate values. We continued to develop a great and conducive working environment throughout FY2021 by providing quality leadership, learning and engagement, diversity, equity and inclusion for all employees.
Our stringent yet fair employment standards and practices are stipulated in the Employee's Code of Ethics and Conduct. Our position is communicated to all employees in English as it is the most commonly used business language. The Code of Ethics and Conduct is also translated and available in Bahasa Malaysia for employees who are more familiar with the national language.
We adhere to local labour laws during recruitment, with preference given to hiring locally to help boost the nation's economy and address issues on youth unemployment.
There were no (0) cases of noncompliance with labour standards reported during the year.
Employee engagement and satisfaction
The last two years have brought unprecedented, fundamental and long-term changes to the workplace and workforce. Remote working has affected workers' motivation and well-being. Hektar REIT must adapt to these challenges to remain resilient and retain talent. Our long-standing commitment to employee engagement and satisfaction stands strong.
The pandemic forced new ways of working that were daunting to many. Hektar REIT engaged with its employees by providing timely updates on work processes and rotating schedule arrangements. Working-from-home schedules were communicated with employees to offer some peace of mind during this uncertainty. The Human Resources team also ensured that employees stayed connected despite social restrictions. Regular online activities and 'catch up' sessions ensured that employees remained as connected and motivated as possible.
Despite the pandemic, the Management continued to hold regular meetings, townhalls and other employee engagement sessions throughout the year.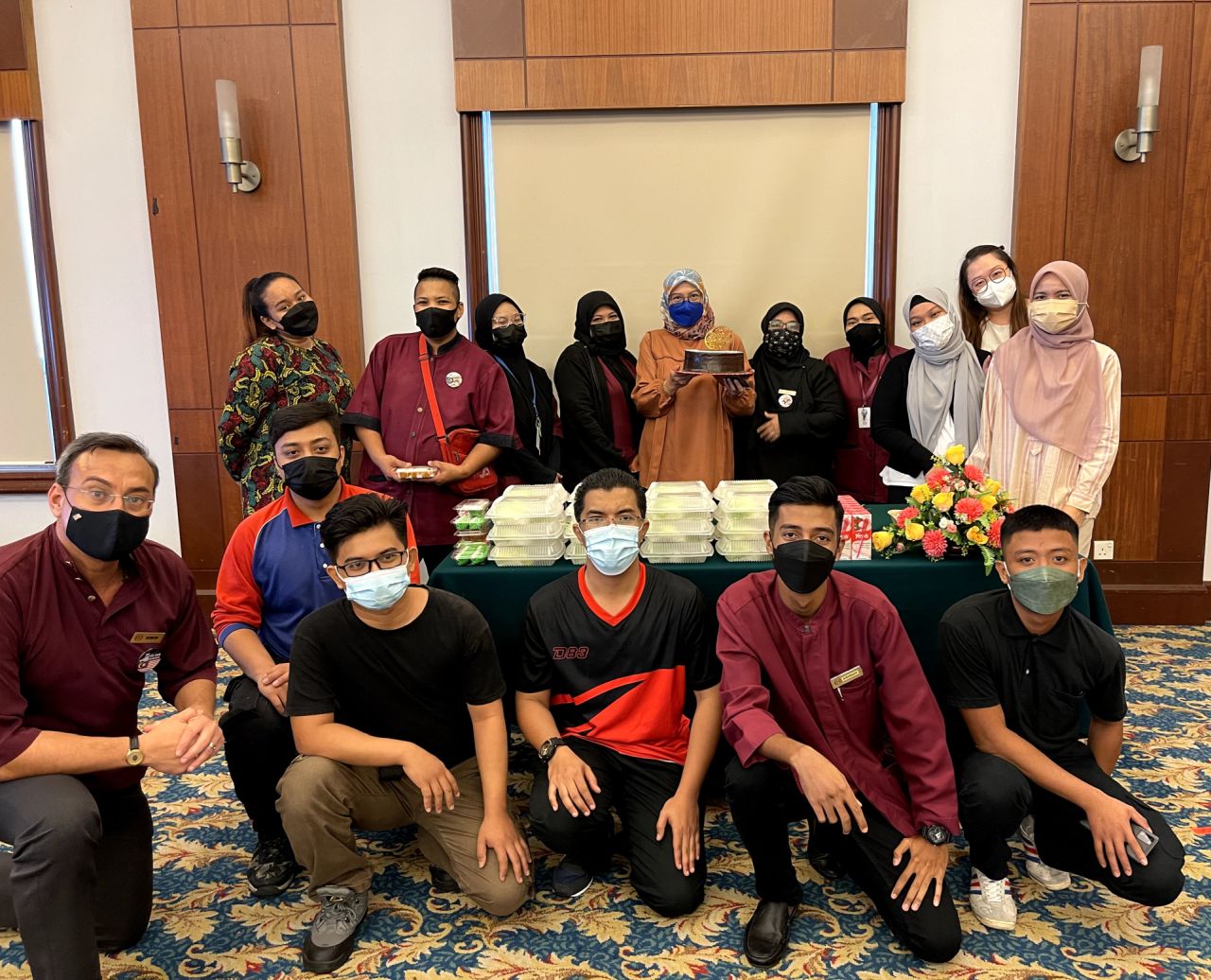 Indicator
FY2019
FY2020
FY2021
Employee Turnover Rates (%)
26.49
13.74
24.84
By gender (%)
Female
8.44
6.14
13.84
Male
18.05
7.60
11.01
By age group (%)
⪪ 30
12.52
4.39
7.55
30 - 50
11.06
7.60
13.84
> 50
2.91
1.75
3.46
The Management also provided financial assistance of between RM1,000 to RM1,500 to each staff member affected by the major floods affecting Selangor in December 2021. Help was also provided in the form of cleaning employees' houses.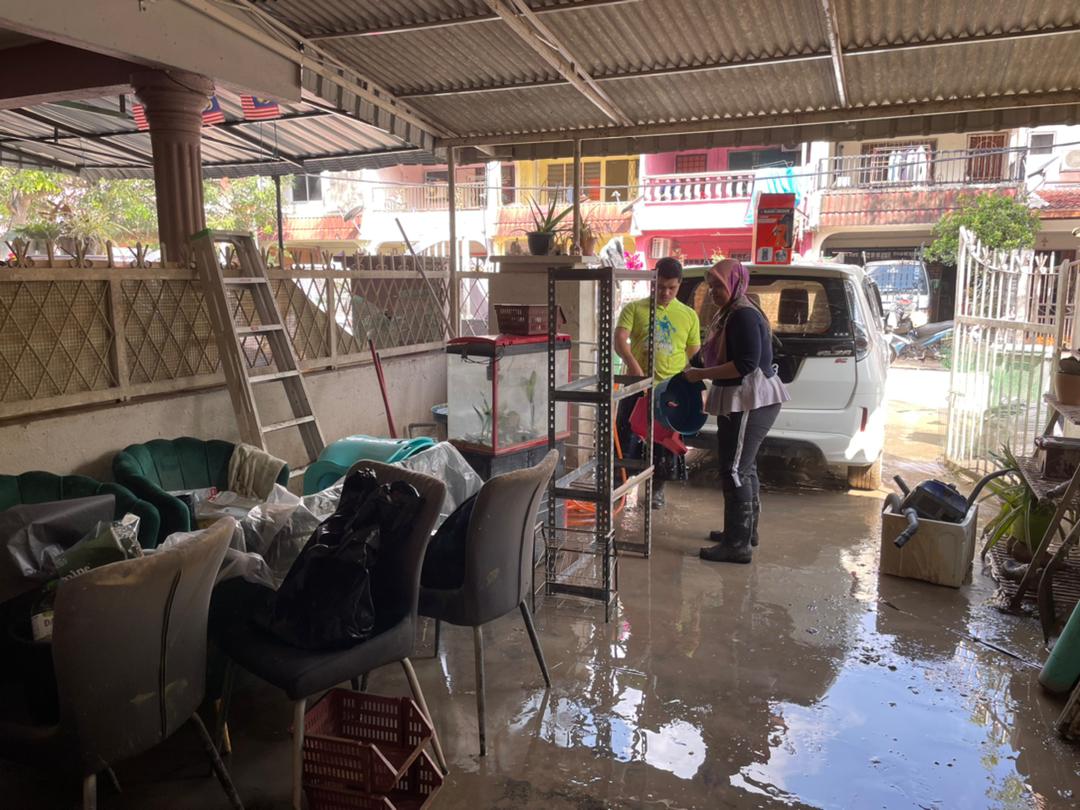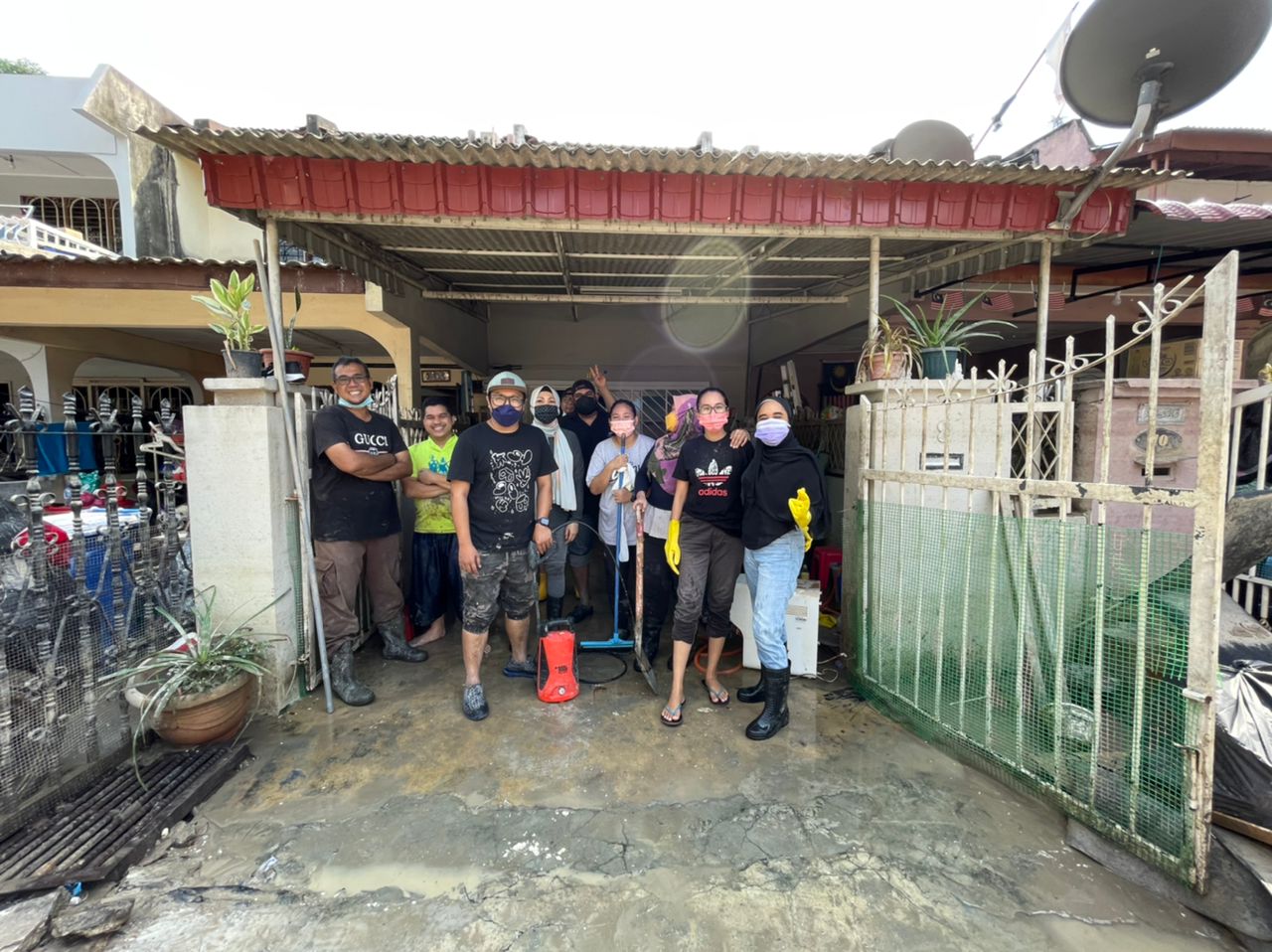 Benefits
Hektar REIT's salary policy follows the principles of fairness and reasonableness. The policy centres around the principle of equal pay for equal work, provided the basic terms are the same. Remuneration investigations ensure that all basic salaries exceed the minimum wage required by law.
Hektar REIT offers a competitive remuneration package in line with industry standards, including comprehensive medical coverage, parental leave and all mandatory leave, retirement contributions, allowances, memberships (club and professional memberships) and long-service awards.
| Period | FY2019 | FY2020 | FY2021 |
| --- | --- | --- | --- |
| Below 2 years | 115 | 76 | 56 |
| 2 to 5 years | 121 | 139 | 131 |
| 6 to 9 years | 45 | 62 | 48 |
| 10 years and above | 69 | 66 | 67 |
Employees' wages comply with all applicable Malaysian laws such as working hours, minimum living wages, overtime hours and legally mandated benefits. We compensate workers for overtime with higher rates than the stated regular hourly rates in compliance with Malaysian law. We also try to eliminate excessive working hours by limiting them.
Maintaining workplace safety and health
Hektar REIT recognises the importance of protecting the health and safety of all stakeholders. We take effective and practical steps to minimise the adverse impact on health and safety from business activities. We abide by the Occupational Safety and Health Ordinance and other relevant legislation in all our properties.
Each Occupational Safety and Health Committee is headed by a Chairman and consists of a secretary, employer representatives and employee representatives.
| Property | Chairman | Secretary | Employer Representatives | Employee Representatives |
| --- | --- | --- | --- | --- |
| Corporate (Group) | 1 | 1 | 5 | 16 |
| Subang Parade | 1 | 1 | 3 | 3 |
| Mahkota Parade | 1 | 1 | 2 | 8 |
| Wetex Parade | 1 | 1 | 2 | 8 |
| Central Square | 1 | 1 | 3 | 5 |
| Kulim Central | 1 | 1 | 3 | 3 |
| Segamat Central | 1 | 1 | 4 | 5 |
| Classic Hotel | 1 | 1 | 2 | 3 |
We also introduced a Health and Safety Policy, which documents our expectations and formalises our commitment to a safe and healthy workplace. Strict incident-reporting protocols ensure:
Employees
| Indicator | Performance |
| --- | --- |
| Fatalities (cases) | 0 |
| High consequence work-related injuries (cases) | 0 |
| Recordable work-related injuries (cases) | 2 |
| Number of days without accident (days) | 2,005 |
Non-Employees
| Indicator | Performance |
| --- | --- |
| Fatalities (cases) | 0 |
| High consequence work-related injuries (cases) | 0 |
| Recordable work-related injuries (cases) | 1 |
| Number of days without accident (days) | 2,254 |
We have an additional responsibility to ensure tenants, customers, shoppers, guests, visitors and contractors enjoy a healthy and productive environment.
We tested the indoor air quality and cleaned the air ventilation ducts in all properties in accordance with local legislation. Mandatory maintenance works continued throughout the MCO as they were essential for the safety of our properties and stakeholders. Contracted companies are expected to comply with the REIT's safety requirements.
We conduct fire drills and evacuation exercises to raise the awareness of tenants and visitors on fire hazards and safety. These exercises covered safety principles, fire hazards, preventive gear and exit routes. As the pandemic disrupted most of the year, we only conducted fire drills at two of our properties: Central Square and Kulim Central.
We also provided new Personal Protective Equipment (PPE) in November 2021 to help all our operations staff perform their duties in a safe manner.
COVID-19 control and prevention
The COVID-19 pandemic reinforces the importance of effective board governance and oversight under unprecedented events. Since the beginning of the pandemic, we held meetings with the directors to:
Assess the impact of Covid-19 on the business; and
Discuss and review action plans for the overall interest of stakeholders.
We considered various issues when assessing current and future business impacts for different scenarios. This exercise helped us formulate appropriate crisis-response and backup plans and understand their adequacy.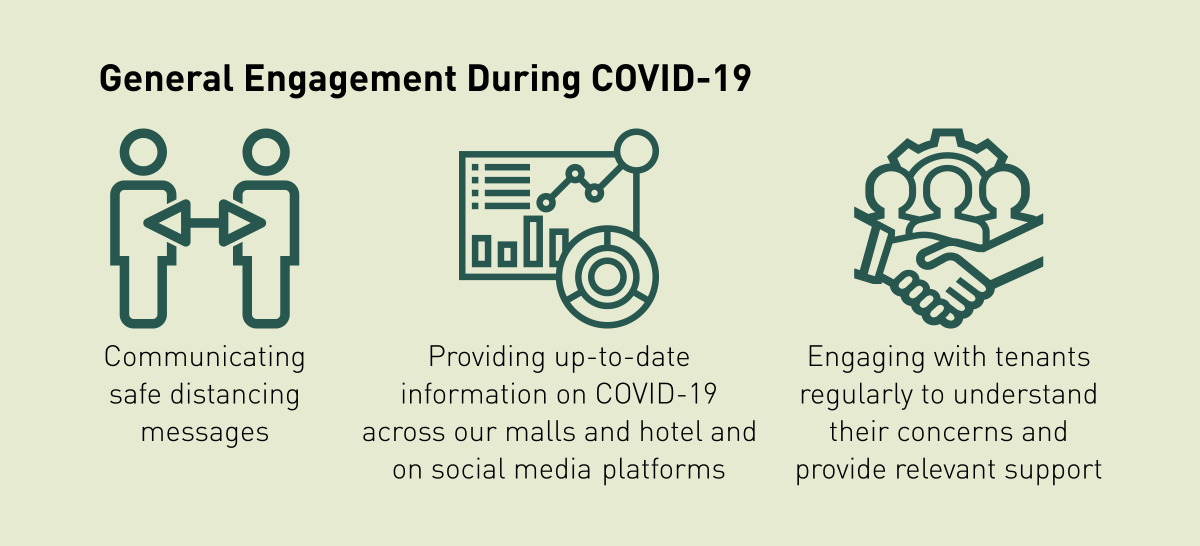 Hektar REIT established a dedicated COVID-19 Emergency Team communication group which included Top Management personnel such as the Chief Operating Officer, Chief Leasing Officer, Heads of Departments and Centre Managers. Each centre also has a dedicated COVID-19 team, including managers and Occupational Safety and Health Committee members.
We have implemented standard operating procedures (SOPs), in line with government recommendations, to manage the impact of the Covid-19 pandemic. We purchased hand sanitisers, infrared thermometers, face masks and sanitising cleaners for our properties during the year in review.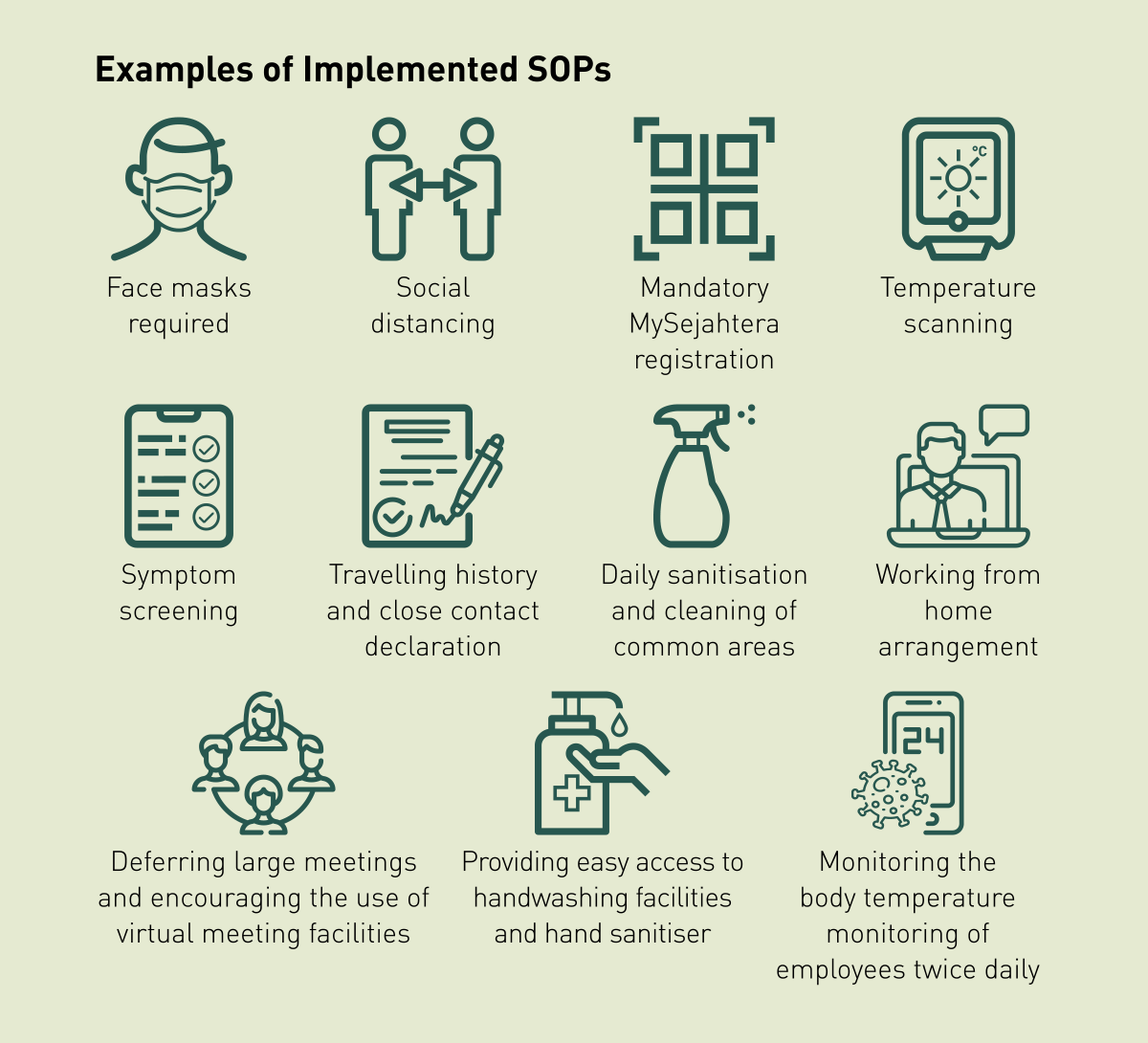 Talent development
Hektar REIT is committed to investing in employee training and development to build a competitive and sustainable workforce. A well-structured employment career management system provides a clear progression path for all employees. The Human Resources Department of HAMSB and HPS supports the REIT with suitable training programmes and updates employees on their individual training needs and relevant courses and seminars.
Our training programmes develop employees' personal skills and capabilities. Training programmes attended by our employees covered various topics such as:
Effective stress management through exercise
Mental health crisis and autophobia
Strata management in the face of MCO
Healthy workplace webcast
QMS training: Introduction to the Quality Management System
QMS training: Guideline for the Quality Management System Audit
Code of Conduct & Ethics and Whistleblowing Policy
Awareness briefing on corruption offences of commercial organisations and managing recurrent related third-party transactions
Understanding the Malaysian Capital Market
Climate Change and Net Zero Journey
Sustainable Finance and ESG for Value Creation
ESG Risk Management and Diligence

Creating and embracing a diverse and inclusive workforce
A diverse, inclusive and safe culture creates a sense of well-being, increasing engagement and delivering a solid performance. Hektar REIT maintains a zero-tolerance stance on any form of workplace discrimination.
We do not tolerate any acts of discrimination against any employee based on race, gender, age, sexual orientation, religion, caste, marital status and/or disability. This policy applies to all terms and conditions of employment, including hiring, placement, promotion, termination, layoff, recall, transfer, leave of absence, compensation and training. Hektar REIT does not discriminate in its hiring process. However, 0% of employees were disabled as of the end of 2021.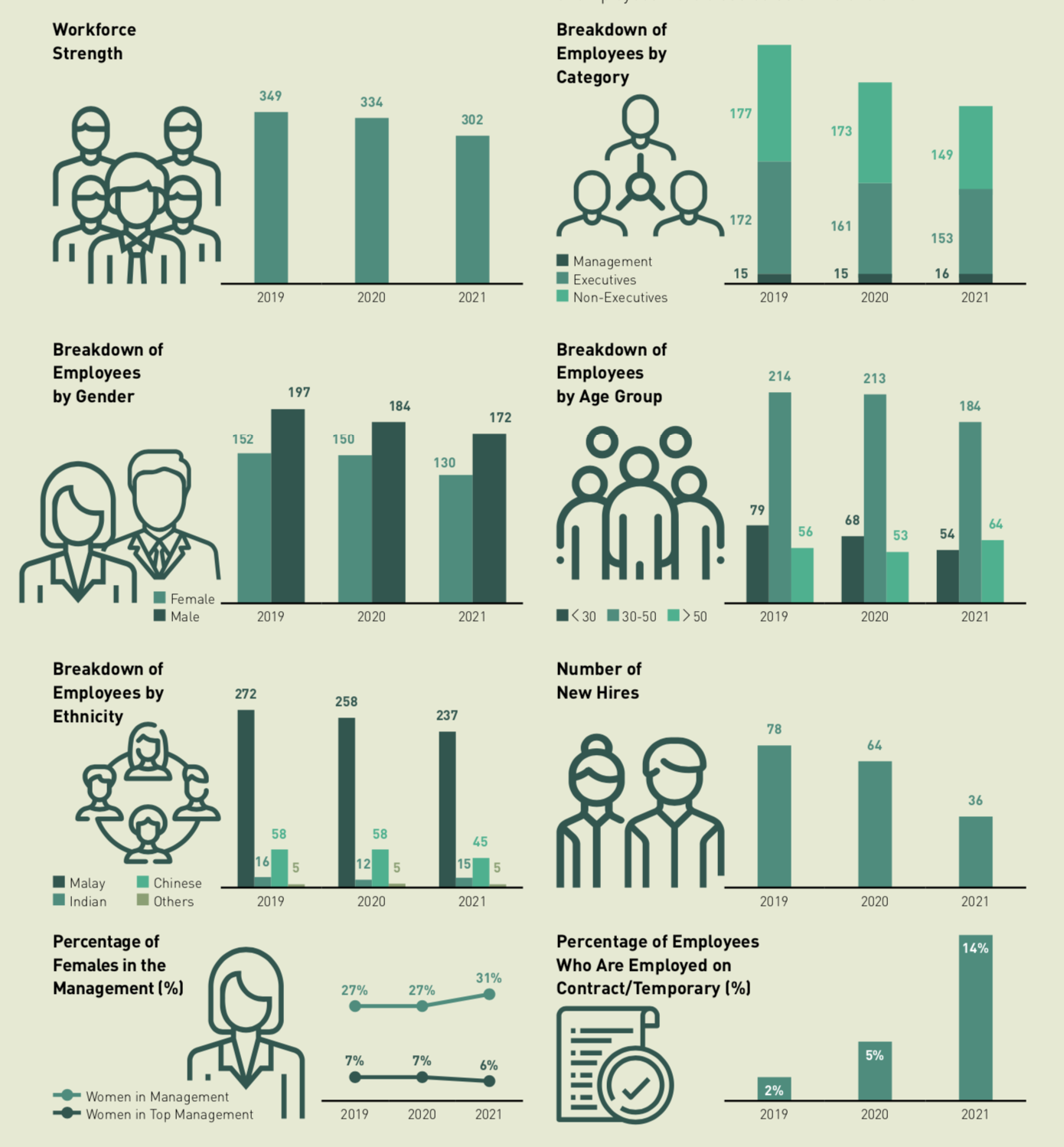 Upholding human rights
Hektar REIT conducts business ethically and sustainably at all times. Human rights are respected throughout operations and extended to the value chain.
We abide by international human rights instruments, including the Universal Declaration of Human Rights. We adhere to all applicable employment and human rights laws where operations are based.
Freedom of association and collective bargaining
Hektar REIT complies with local laws on freedom of association and collective bargaining. All business operations comply with:
The Industrial Relations Act 1967; and
Relevant local laws that protect workers' rights to bargain collectively in the context of the International Labour Organisation (ILO) standards.
Although we do not have a formal union in place, our employees and workers are free to join any of their choice. We support them by addressing any raised issues. However, none of our employees are members of any trade union organisations (0%).
Operating responsibly
Our values and expectations are at the heart of everything we do. We are determined to ensure that we act with integrity across all our assets and operations, in line with our commitment to transform the shopping experience by creating places where people love to shop, dine and play.
Going beyond buildings
Hektar REIT hopes to bring people together from within and around its properties. Our focus is to be the "neighbourhood shopping centre" of choice.
Beyond buildings, we continue to champion various engagement activities with tenants and customers to improve their shopping experience. We delivered several key programmes despite the COVID-19 pandemic effects severely impacting operations throughout 2021.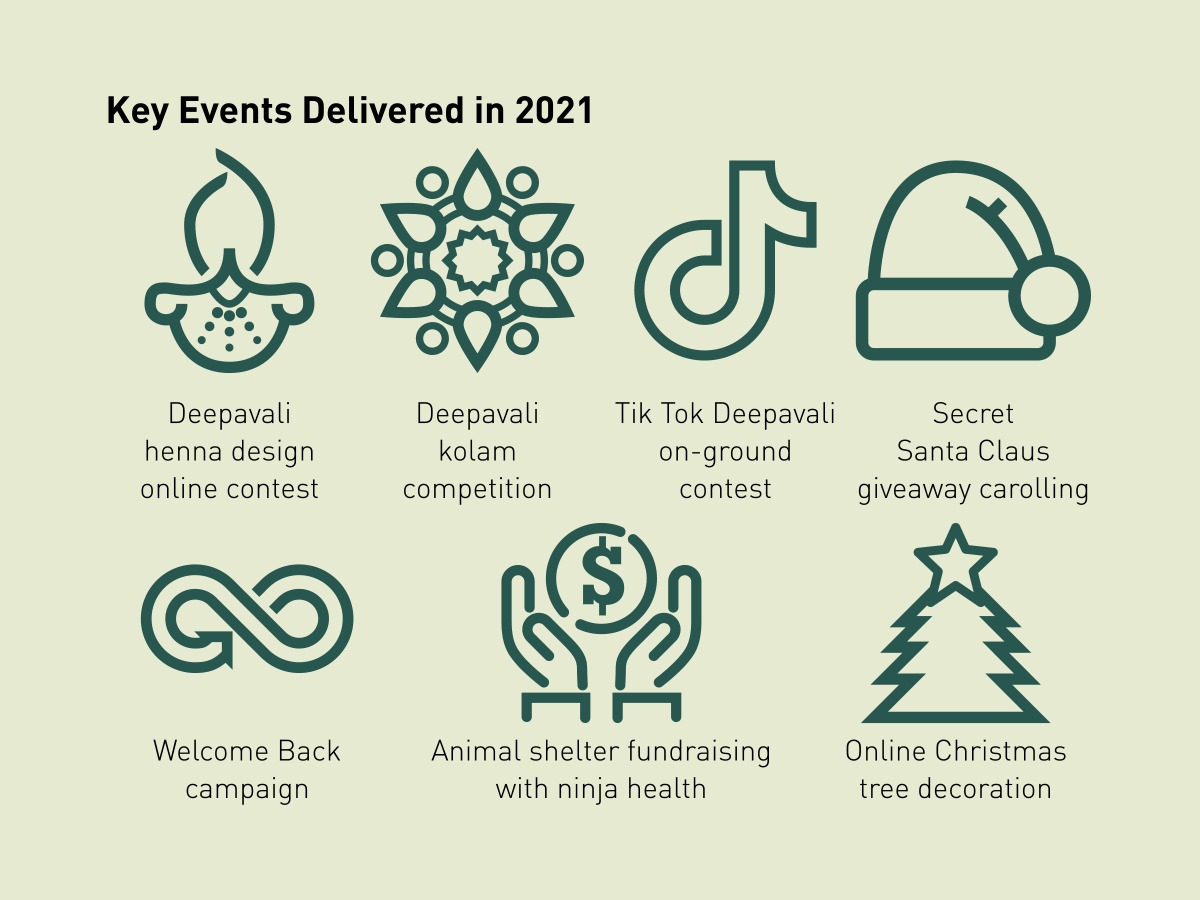 Boosting tenant sales
Hektar REIT has reached out to extend a supporting hand to shoppers. Engaging with our shoppers boosts tenant sales through marketing promotions via both physical and digital platforms.
Curbside delivery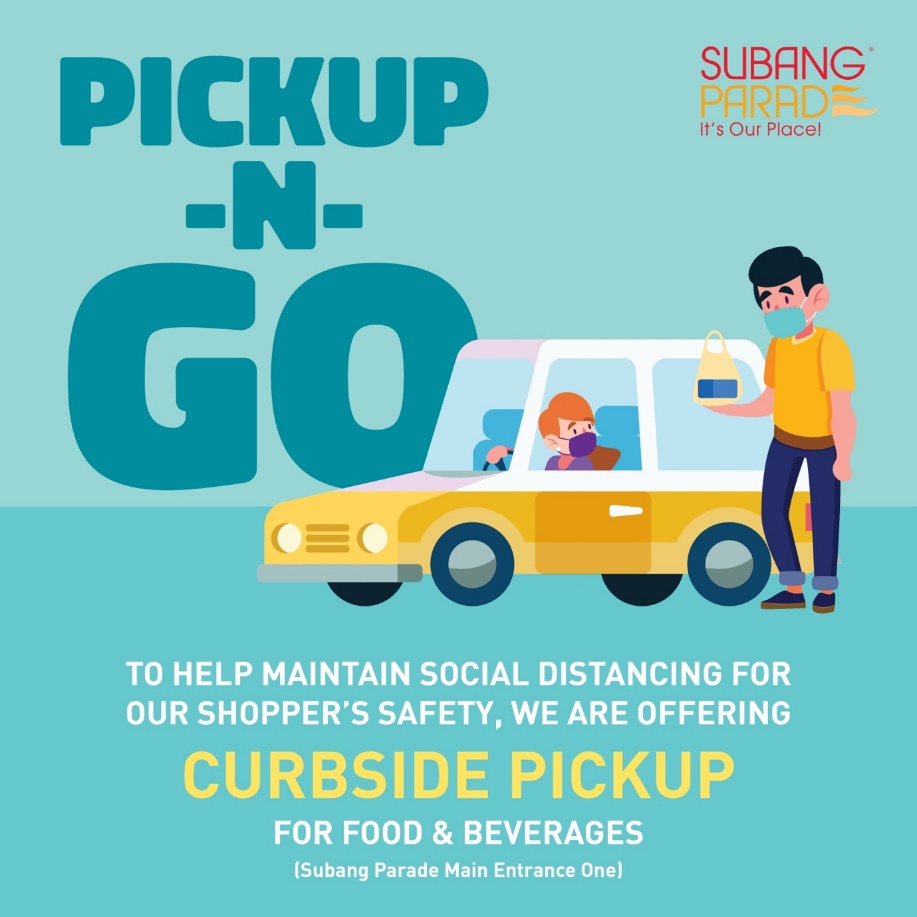 For the convenience of our shoppers, we are offering curbside pickup by participating stores and restaurants at the mall entrances for shoppers to collect their purchases and orders.
46 F&B outlets across our six malls participated in this initiative.
Welcome Back campaign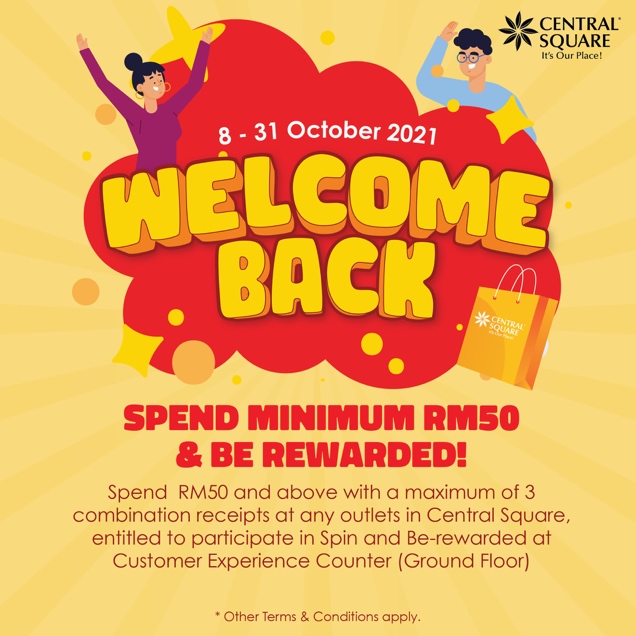 With the 'Welcome Back Campaign', shoppers were rewarded by picking from a "lucky pod" based on the specified minimum spend with attractive prizes and shopping vouchers offered.
Spend & Win campaign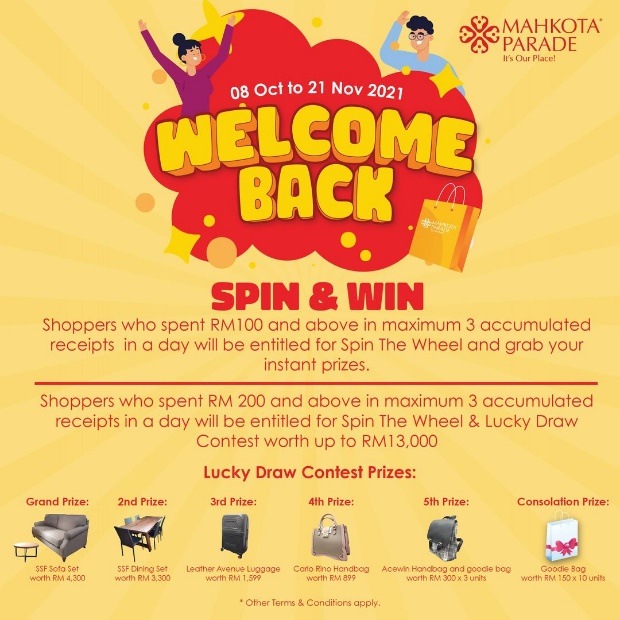 Shoppers meeting the minimum spend amount were eligible to enter the Lucky Draw Contest with prizes worth up to RM13,000.
Winning in the digital era
Online shopping provides consumers with the ultimate level of convenience. Malls will never compete with the endless product selection, price comparisons and 'always-on' nature of online retailing. Malls must reinvent themselves to excel in the digital age. Hektar REIT is moving away from commoditised shopping experiences and embracing a broadened value proposition for its consumers.
We incorporate value-added elements that recast our malls as the new downtown, including hosting events and festive celebrations that can never be satisfied online. Using temporary, flexible spaces more effectively can help us accommodate different stores over time, such as kiosks and pop-up stores.
The digital transformation of retail, resulting from the pandemic, is not all bad news for malls. It presents new opportunities for malls to engage with consumers throughout their decision journeys.
Going digital helps us extend our relationships with customers before and after their visits. Our properties actively engage with customers through social media platforms with engagement rates as high as 27% on popular posts.
Creating places for everyone
Online shopping provides consumers with the ultimate level of convenience. Malls will never compete with the endless product selection, price comparisons and 'always-on' nature of online retailing. Malls must reinvent themselves to excel in the digital age. Hektar REIT is moving away from commoditised shopping experiences and embracing a broadened value proposition for its consumers.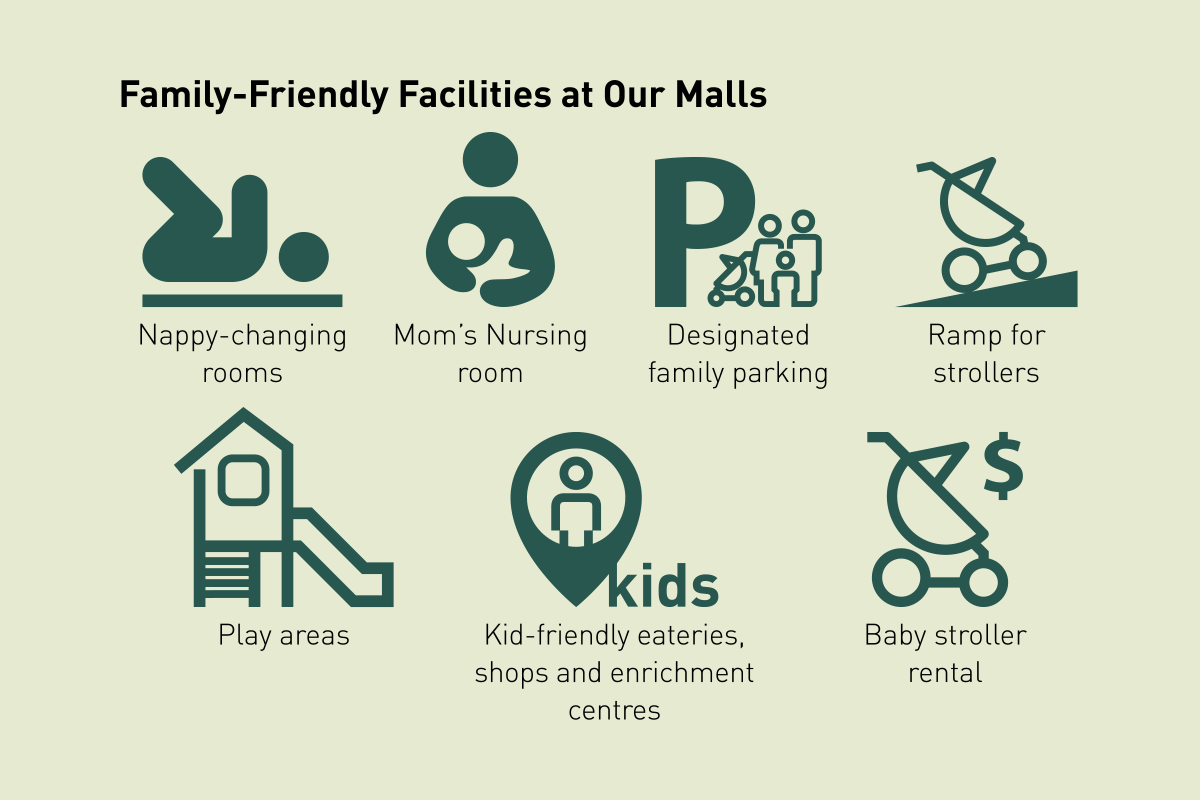 All of our properties are disabled-friendly to some degree as we provide:
Amenities such as wheelchairs to customers
Dedicated disabled parking bays
Toilets with facilities dedicated for the handicapped
Ramps to help with wheelchair accessibility
Tenant satisfaction
Tenants are key stakeholders that are pivotal to Hektar REIT's success. Good working relationships, born out of mutual respect, allow us to anticipate, understand and respond to changing tenant requirements. Periodic site visits, email correspondences, regular tenant engagement events and tenant satisfaction surveys strengthen tenant attraction and retention.
Working closely with tenants and local communities, we welcome them to be part of our sustainability journey. Together, we address social issues facing the industry such as vandalism at malls, unemployment, theft and child safety.
Operating in a safe environment
The Government launched the Retail Industry Vaccination Programme (RiVAC). RiVAC is a joint initiative between the public and private sectors, involving the Ministry of Domestic Trade and Consumer Affairs (KPDNHEP); the COVID-19 Immunisation Task Force; the Ministry of Science, Technology and Innovation; retail industry players and the Malaysia Shopping Malls Association. The initiative prioritised frontliners in the economic retail sector to ensure consumers could shop in a safe environment. As of 31 December 2021, 100% of our employees had completed the two-dose vaccination and we will continue to ensure that our employees participate in ongoing booster programmes as mandated by the Ministry of Health.
Hektar REIT supports this programme and views it as critical for the eventual full reopening of the industry. RiVAC is important for the safety of retail staff and safeguarding public health for those who have daily interactions with the public. Hektar REIT will continue to monitor the situation while adhering to all SOPs and has implemented measures to ensure the business sustainability of the REIT and its tenants.
We carry out regular sanitization and disinfection during daily cleaning operations. We have also introduced effective crowd control at all of our malls. We limit the number of people entering the premises according to the size of each shop to minimise overcrowding, especially during peak periods. These measures prevent the occupant load from exceeding the number of persons per square metres as per government guidelines.
Each mall performs daily walkabouts and other inspections to identify any safety hazards. The Duty Manager also conducts similar walkabouts on weekends and public holidays.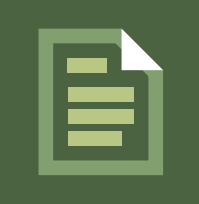 Download the 2022 Sustainability Statement
Our 2022 Sustainability Statement is also available for download as PDF file.