Sustainability report 2021
Environment
Hektar REIT is committed to minimising the environmental impact of its assets and adopting leading practices in its operations in line with the REIT's strategy.
We have introduced various sustainability-related initiatives throughout Hektar REIT's asset management and property operations, including:
Identifying environmental risks and integrating them into the Enterprise Risk Management framework;
Enhancing the collection of reliable and accurate performance with robust systems; and
Adopting meaningful global benchmarks.
These efforts help identify areas for further improvement. Managing the cost and environmental impact efficiently helps provide stable and growing returns for unitholders.
Hektar REIT's sustainability policy reiterates its commitments to a wide range of environmental issues, including pollution prevention, minimising the impact on biodiversity, climate change adaptation, water and waste management, and energy consumption, including increasing renewable energy in the existing energy mix.
Environmental management programme
Environmental Management Programmes, such as the Building Management System (BMS), have been introduced at some assets. The MyHijau certified Tracer System Controller acts as the central coordinator for all individual major Air-Conditioning and Mechanical Ventilation (ACMV) equipment.
This real-time environmental tracking tool, operating on a web and mobile app interface, allows the close monitoring and tracking of sustainability-related performance. We performed regular inspections and resolved lower-risk issues. We have seen improvements across selected assets with no further major environmental issues detected since adopting this system.
Building certifications reinforce the quality of assets and deliver increased value for unitholders. These building certifications are strongly correlated with positive returns on investment and high tenant satisfaction levels. Hektar REIT plans to achieve green certification for one of its assets by 2025.
Improving energy efficiency across assets
Hektar REIT strives to use energy in the most efficient, cost-effective and environmentally-responsible manner possible. As a result, the REIT is committed to addressing energy use and improving efficiency. The coverage of energy consumption data reported below covers the entire REIT's asset portfolio (100%).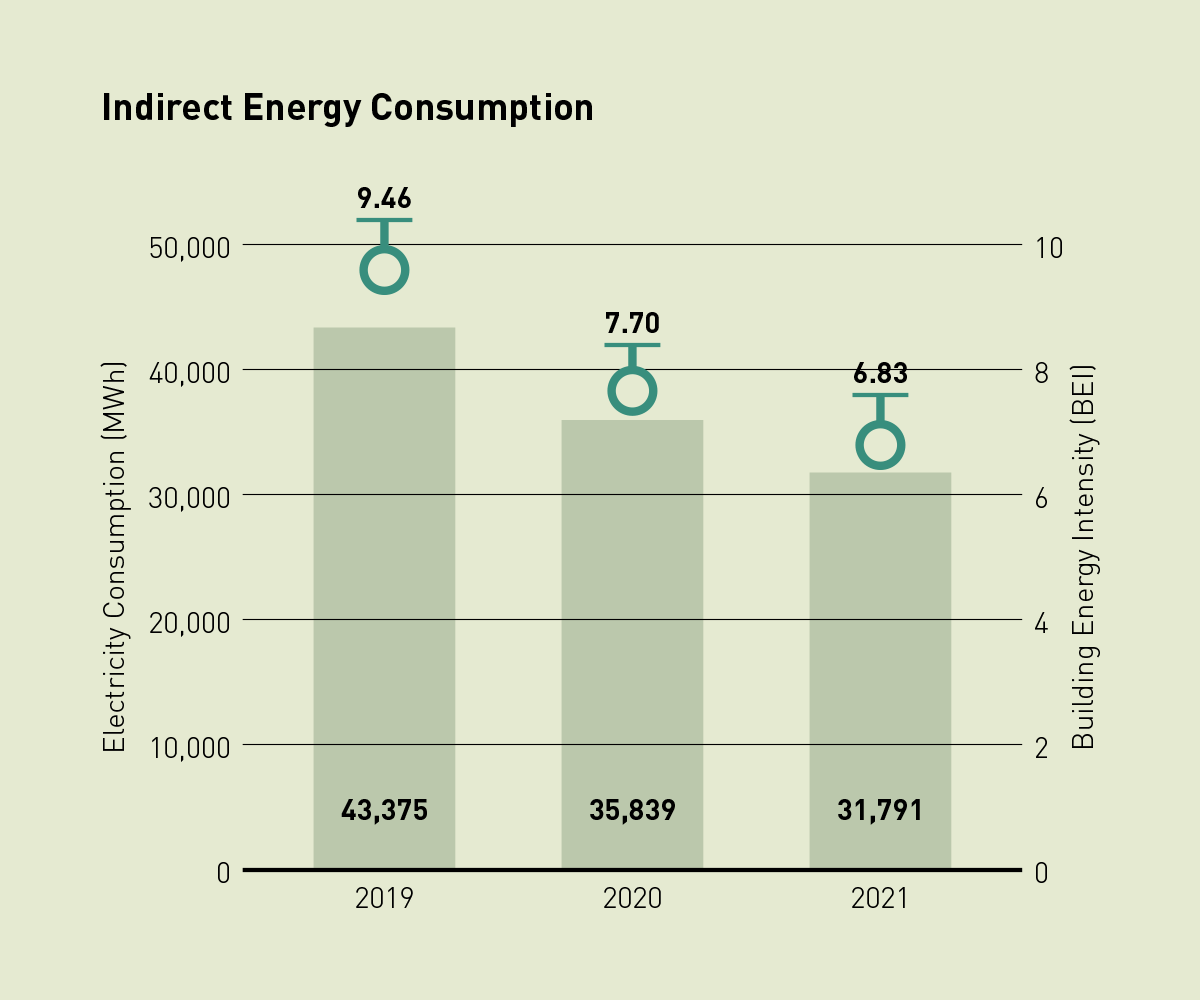 COVID-19 disrupted the operations of Hektar REIT and its tenant customers. A significant reduction in activities and energy demand resulted from many tenant customers being unable to operate. The respective property managers promptly adjusted settings on heating systems, lifts and lighting based on building occupancy and usage.
A significant decrease in energy consumption was attributed mainly to the closure of some retail outlets during the various phases of movement control orders to combat the COVID-19 pandemic. However, we continuously seek ways to improve energy efficiency, increase renewable energy within the energy mix and increase the coverage of energy consumption reporting.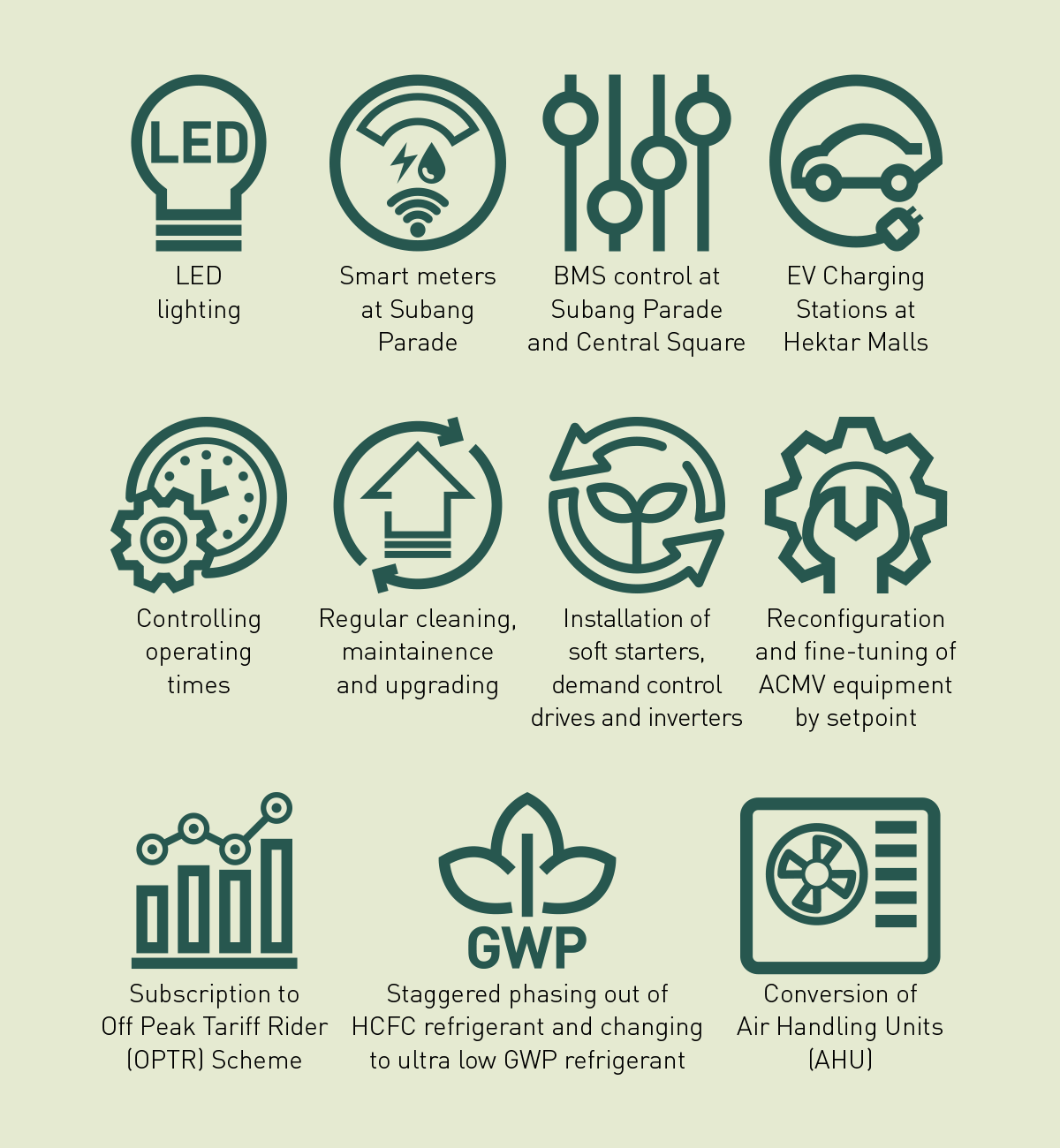 We audited the chiller plants in Subang Parade, Mahkota Parade and Central Square. Immediate remedial works and retrofits optimised the energy efficiency of the chiller plant and other ACMV components based on the findings.
Energy usage and savings are discussed regularly and are on the agenda of management meetings. During these meetings, the management team updates the Sustainability Steering Committee on energy usage and savings trends.
Being recognised by various awards for our energy savings initiatives is a testament to our sustainability commitment. Recent awards include the Annual Global CSR Summit & Award, the National Energy Awards and ASEAN Energy Awards.
Renewable energy
Solar power is produced by collecting sunlight and converting it into electricity. Renewable energy helps reduce the REIT's electricity consumption and manage our environmental footprint.
We are examining the feasibility of installing solar panels on the rooftops of all our malls. A photovoltaic (PV) system:
Tracks the performance of the installed solar panels
Allows real-time key system data to be accessed and analysed
Measures both the overall consumption of internal power and external energy as power is generated for self-consumption
Detects minor deviations and resolves them quickly
Green leases
Green leases are lease contracts with specific clauses that oblige tenants and customers to provide sustainability data such as consumption to the landlord. Currently, we do not have any green leases in place but aim to increase the share of consumption data collected from tenants across our portfolio:
For more comprehensive reporting and
As a basis for joint sustainability initiatives with tenants and customers.
Solar panels, tenant engagement and smart building systems are examples of possible joint sustainability initiatives.
Business impact of climate scenario analysis through active design
Chiller plant system
We undertook a major ACMV retrofit and energy efficiency exercise at Subang Parade in 2018. The chiller plant system is fully integrated with a building control and monitoring system (BMS). It also features permanent measuring instrumentation. The chiller operates at 0.591kWT or less with a minimal deviation of 1.5% to 2% for seasonal weather and building load factors.
Equipment
Efficiency before retrofit (kW/T)
Efficiency after retrofit (kW/T)
Chillers (covering 90% of building load)
0.95
0.485
Chilled water pump
0.24
0.038
Condenser water pump
0.038
Cooling tower
0.03
Air Cooled Packaged Unit (covering 10% of building load)
1.9 (correlated to 0.19 for 10% of building load)
0
Total system efficiency
1.38
0.591
The newly retrofitted chiller plant system operates autonomously based on a pre-set schedule and configuration, corresponding to real-time feedback from both outdoor and indoor temperature sensors.
A real-time analytics algorithm installed within the controllers ensures the system operates optimally to accommodate the building load requirements and deliver the highest possible efficiency.
A similar retrofit exercise, conducted at Central Square, resulted in an estimated 23.07% in energy savings due to:
Using certified chillers with new efficient pumps
Installing cooling towers with variable speed drives and rigorous and detailed setpoints
Configuring the Building Automated System (BAS)
Air Handling Unit (AHU) and Fan Coil Unit (FCU)
Hektar regularly and diligently services AHUs and FCUs (pls confirm) to ensure their performance matches the energy-efficient chiller plant system equipment. The building maintenance team diligently adheres to bi-weekly water cleaning and a quarterly chemical cleaning programme.
Lighting
Our buildings have been retrofitted with energy-efficient fixtures such as LED light fittings and timers to maximise energy savings. Subang Parade was the first to initiate the LED replacement programme in 2017 in line with their total energy-saving initiatives. The programme is currently ongoing and includes all areas, including an underground car park, service tunnel, loading bay, staircase, and indoor and outdoor lighting.
Indoor air quality
Hektar REIT monitors the Indoor Air Quality (IAQ) of its buildings to ensure they are within limits set by the Department of Occupational Safety and Health (DOSH). The fresh air exchange rate for Subang Parade is 2.74m3/hour/person. The table below presents the DOSH Industry Code of Practice Indoor Air Quality 2010.
| Parameter | Acceptable range |
| --- | --- |
| Air temperature | 23 – 26 °C |
| Relative humidity | 40 – 70% |
| Air movement | 0.15 – 0.50 m/s |
Water management
Water is the most precious resource on planet earth. We have been meticulously finding ways to limit the water consumption of our property portfolio by reducing usage and improving efficiency. This commitment applies to all of our properties. Typically, we source water from municipal water utilities. Any wastewater is also discharged responsibly through municipal water utilities.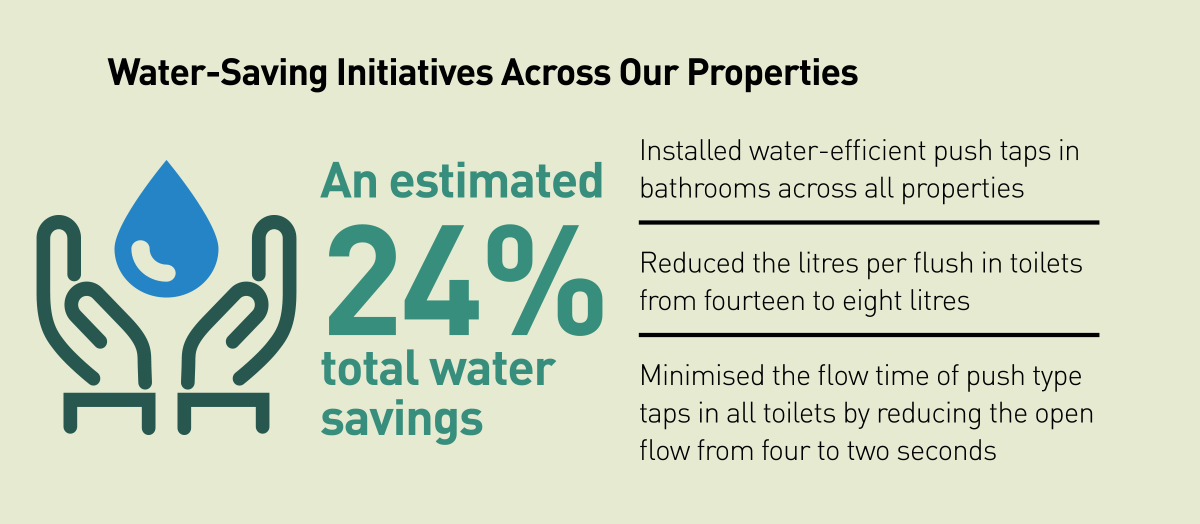 Our hotel property only provides extra linen upon request; we practise a one-to-one exchange to minimise water waste.
We are committed to exploring the feasibility of installing more water-saving devices and equipment in the future. Our property managers check our water supply systems regularly to prevent water leakage. Recently, we refurbished the Mahkota Parade rooftop water tank for this purpose.
Our short-term agenda involves examining rainwater harvesting and storage systems to reuse stormwater for irrigation and cleaning.
We advocate the responsible use and management of water and improve efficiency across all properties. Working with property managers, we educate tenants and raise awareness of its conservation as they consume most water.
The water consumption intensity of our properties reduced by 6.5% in 2021 compared to the previous year. Primarily, this decrease was attributed to the significant reduction in building usage during the COVID-19 pandemic. We will continue to monitor and review the water performance of our portfolio.
As none of our properties are located in water-stressed sites, this topic is not discussed during engagement with stakeholders.
* Covers the entire REIT (100% of operations)

| | Water usage (m3) | Water use intensity (WUI) |
| --- | --- | --- |
| 2019 | 701,190 | 0.153 |
| 2020 | 556,226 | 0.120 |
| 2021 | 520,122 | 0.112 |
Sustainable architecture
Cost is always a primary consideration for building planners. Hektar REIT's upfront spending on sustainable strategies delivers significant long-term savings while improving air quality and well-being.
Sustainability architecture consists of design strategies that reduce the negative environmental impact of a built environment. We consider sustainability throughout the design, planning and construction of properties to construct buildings with the lowest environmental impact possible. Continuously redesigned over time, these buildings undergo various enhancement initiatives. Responding to the local climate and site conditions maximises users' comfort, health and resource efficiency.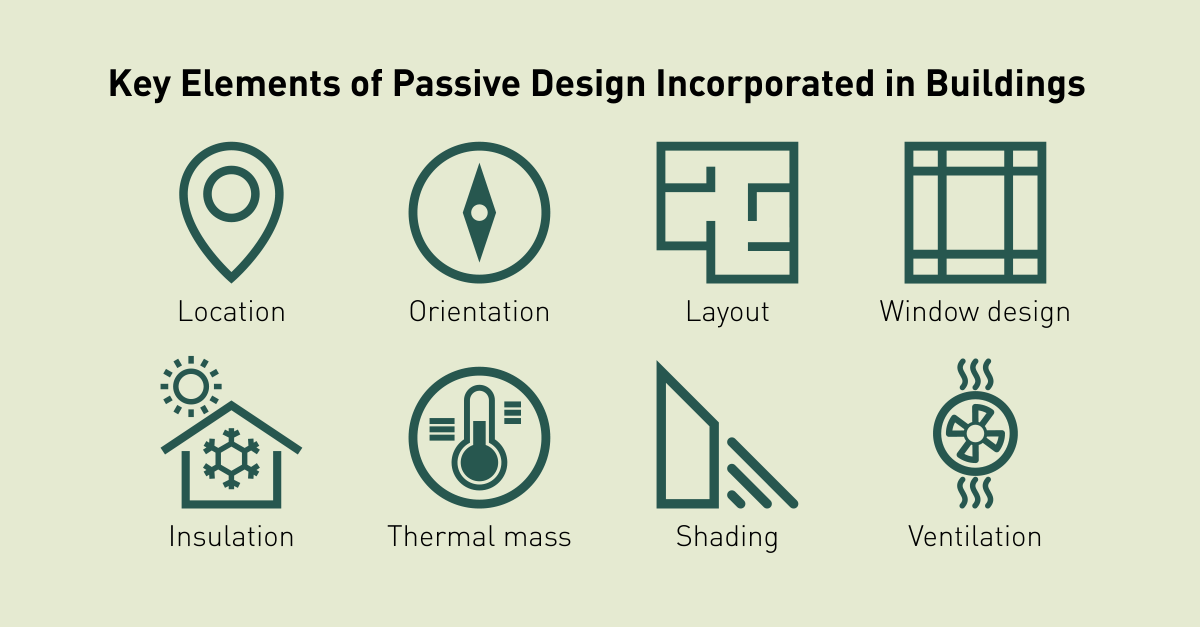 All passive design elements work together holistically to achieve comfortable conditions and good indoor air quality.
One of our assets, Subang Parade, is a prime example of improvement works and facelifts being carried out steadily since its inception. These improvements consist of structural improvements and interior design works. Our overarching focus on energy efficiency and energy sustainability is one of the boldest among our peers in Malaysia.
Green procurement
We strive to practise green procurement across all properties as part of Hektar REIT's pollution prevention principles and activities. Environmentally-friendly products and services consider environmental criteria and standards to protect natural resources. All malls are encouraged to use green products in their daily cleaning and maintenance.
Hektar REIT has introduced paperless parking at some malls to reduce paper wastage. The cashless and ticketless parking experience allows visitors to pay their parking fees with Visa PayWave and participating e-wallets such as Touch N' Go. The total paper ticket used/purchased has further declined since enforcing a paperless parking system throughout 2021 in stages across all malls.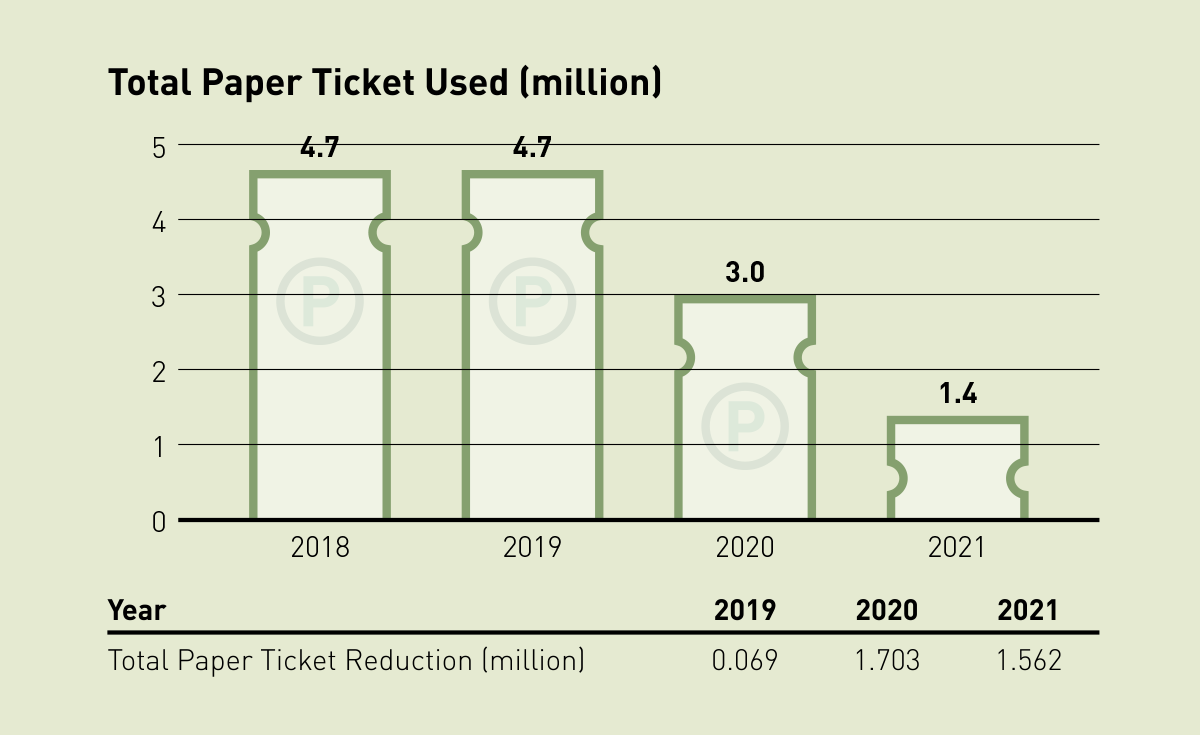 Waste management
Improper waste management adversely affects the environment and public health. Hektar REIT aims to manage waste at its properties responsibly.
Tenants, customers, guests, visitors and the general public produce the bulk of waste generated at operational properties. Hektar REIT engages with its stakeholders through various means to reduce and recycle waste. Every Classic Hotel guest is greeted with a welcome note to remind them to be environmentally and socially conscious during their stay.
Encouraging tenants to recycle minimises waste sent to landfills. Recycling bins are available at our properties for shoppers, guests and tenants. Authorised third-party contractors collect and dispose of the waste accordingly. These contractors are engaged several times a week, depending on the volume of waste generated.
Periodically, we run recycling campaigns across our properties to encourage the public to protect the environment. The most recent campaign was the #JomKitaRecycle at Segamat Central.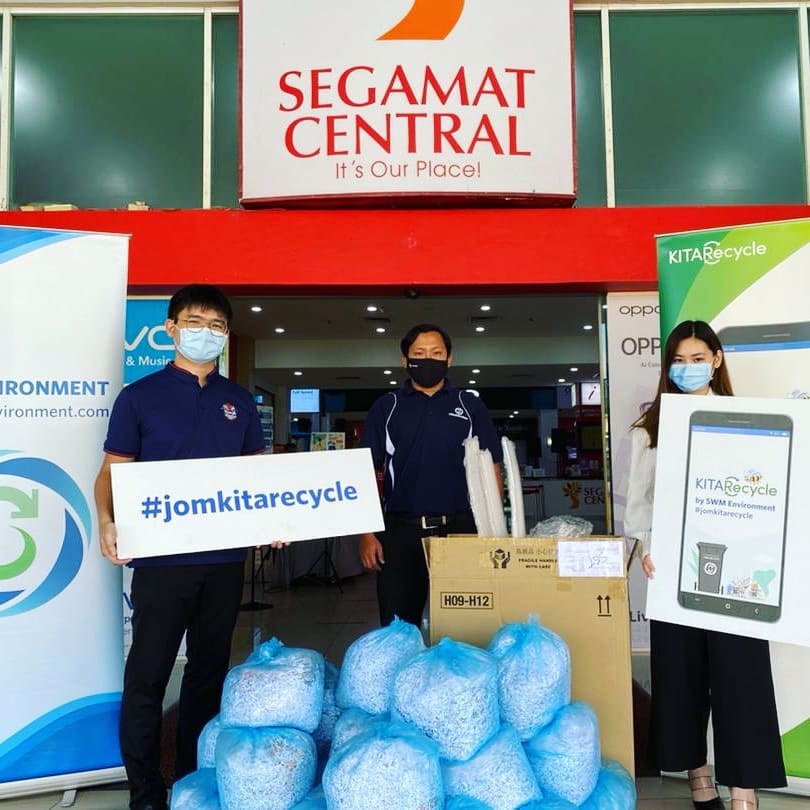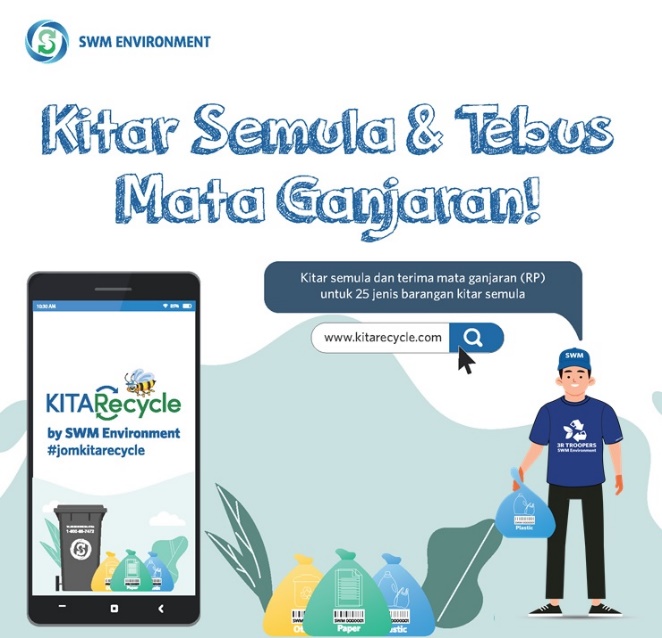 Did you know?
---
Subang Parade partners with Kloth Cares for its fabric recycling movement. We invite shoppers and visitors to recycle unwanted clothes and fabrics by depositing them in the Kloth Bin in the basement carpark. 615kg of textile waste has been collected to date.
Textile waste releases methane as it decomposes. This harmful greenhouse gas is a significant contributor to global warming. Dyes and chemicals in fabrics and other components of clothing and shoes can leach into the soil, rivers, waterways and possibly water destined for personal consumption. Subang Parade partners with Kloth Cares for its fabric recycling movement. We invite shoppers and visitors to recycle unwanted clothes and fabrics by depositing them in the Kloth Bin in the basement carpark. 615 kg of textile waste has been collected to date.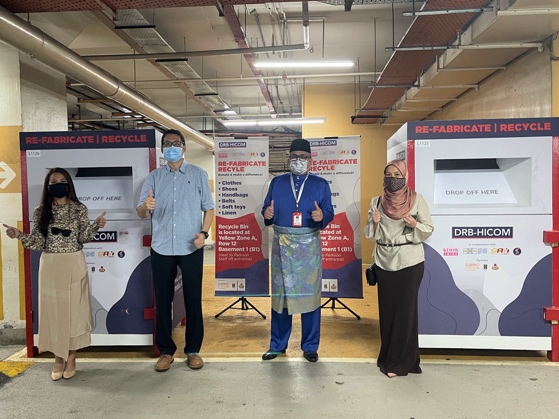 Significant environmental damage is caused by disposing of old electronics in landfills or improperly treating them. Subang Parade introduced an e-waste recycling programme that offers cash for e-waste. The Mall sends all collected e-waste to licensed recovery factories to minimise the negative effect on the environment. We will continue to encourage and educate our tenants, shoppers, guests and visitors on the importance of disposing of e-waste properly.
The majority of waste generated at our malls and hotel is domestic waste from day-to-day activities. Our solid waste disposed of in the past three years is presented below.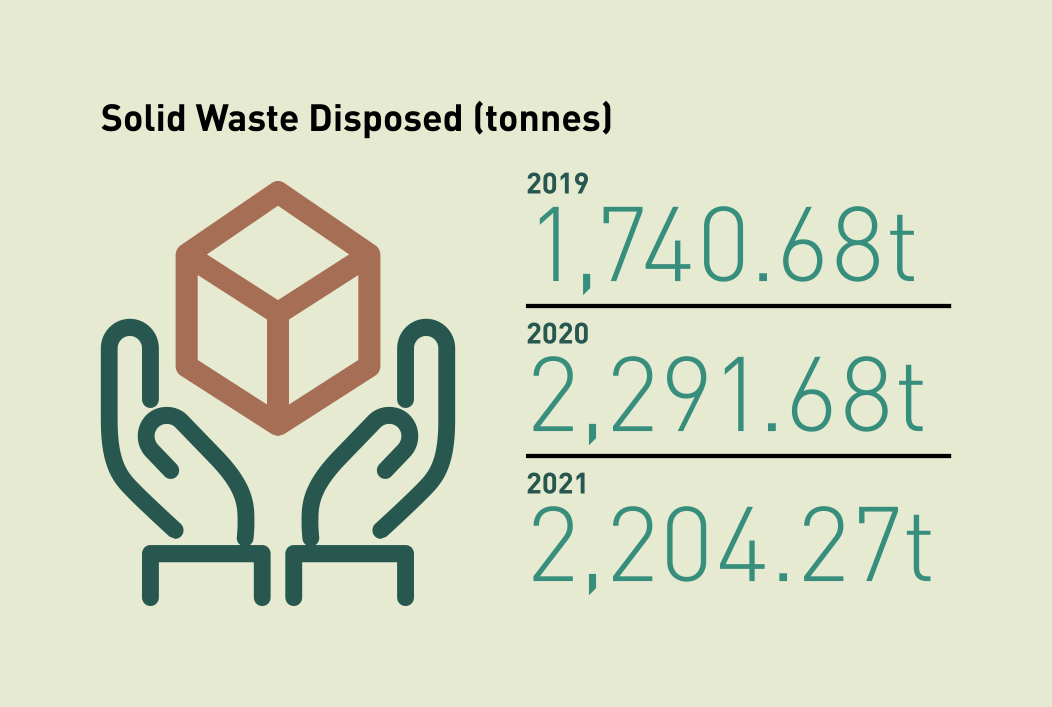 Climate change management
Hektar REIT is committed to mitigating climate change risks. We recognise the devastating effects and associated short- and long-term business risks that climate change presents. Hektar REIT's strong commitment to addressing this issue includes avoiding the impact of climate change by improving the efficiency of operations. Our climate change strategy includes working with employees and supply chain partners on energy-saving processes and a complete climate change risk assessment.
Climate-related risk management is integrated into the REIT-wide risk scorecard. It is part of the foundation in formulating our business strategy, deciding on future R&D and investments in technology. Specifically, the REIT's climate risk management process includes mitigation efforts to reduce greenhouse emissions, climate engineering and expanding climate system knowledge.
Inevitably, climate change affects operating costs (OPEX) and capital expenditure (CAPEX). Efficiency, output and performance of assets and equipment can decrease due to changing climate conditions. Additional CAPEX may be required due to asset damage or decreased asset performance. Further, complying with environmental regulations requires additional CAPEX for upgrading facilities or equipment to cope with increased pollution risks.
We are committed to addressing the issue of climate change and improving efficiency through adaptation by adopting new and green technology in developments and implementing fuel efficiency measures. Specifically, we have adopted a tracking system for emissions, energy use, water use and waste in our properties.
Environmental sustainability is a core consideration of MREITs. As one of the MREITs, we collaborate with industry peers to address increasingly diverse challenges around environmental performance, compliance and efficiency in the real estate industry. Our role and involvement in this membership include:
Identifying pressing environmental issues in climate change, water and waste; and
Collaborating on solutions that drive improvement within Hektar REIT and throughout our supply chains.
We are consistent between our climate change policy and the position we advocate in the trade associations of which we are members. When opinions contradict, we identify gaps and initiate a process that alerts us to new areas of good business practice.
Our management team, overseen by Dato' Hisham bin Othman, CEO of HAMSB, who also sits on the Board, devises strategies to manage and minimise our environmental footprint. Progress reports and proposals on energy management, climate change and pollution reduction, supported by financial indicators and Return on Investment (ROI) calculations, where applicable are presented to the Board.
Climate change investment
Climate change is reshaping the investment context at Hektar REIT. Given the urgency and magnitude of climate change implications, the REIT redefined its sustainable investment strategy to include a more targeted and holistic approach to climate change. Strategically managing climate-related risks and opportunities lowers our competitive risk while transitioning to a low-carbon, climate-resilient economy.
Hektar REIT has invested more than RM5.5 million on various climate change-related initiatives over the past five years. We invested heavily in R&D, advancing the building and facilities, machinery and automation such as installing chillers, repairing the cooling towers, retrofitting air-conditioning and mechanical ventilation, installing cold water systems, refurbishment and audits.
Carbon footprint calculations
| | |
| --- | --- |
| Consolidation method for calculating carbon footprint | 100% of emissions from wholly-controlled properties are calculated. |
| Organisational boundary in calculating carbon footprint | Accounts for 100% assets GHG emissions from Hektar REIT's portfolio |
Scope 1 Coverage: entire REIT (100%)
Small amounts of diesel are used to run generators in our properties. CO2 emissions from the consumption of diesel were derived from the emission factor published by the IPCC Guidelines for National Greenhouse Gas Inventories.

Scope 2 Coverage: entire REIT (100%)
CO2 emissions from electricity use were derived using the emission factor published by the Malaysian Green Technology Corporation for the Peninsular Grid.

Scope 3 Coverage: Employee-owned vehicles
GHG emissions resulting from employee commuting consisted of both fuel and mileage claims for employee-owned vehicles:

Mileage claims for employee-owned vehicles were calculated using the World Resources Institute GHG Protocol tool for mobile combustion. Version 2.6.
Petrol claims were calculated using the emission factor published by the IPCC Guidelines for National Greenhouse Gas Inventories.



Emissions intensity
Emissions intensity, or carbon intensity, is a better measure of the emissions efficiency of our assets. At Hektar REIT, we express emissions intensity as the amount of CO2e emitted per gross floor area (kgCO2e/sq.ft.).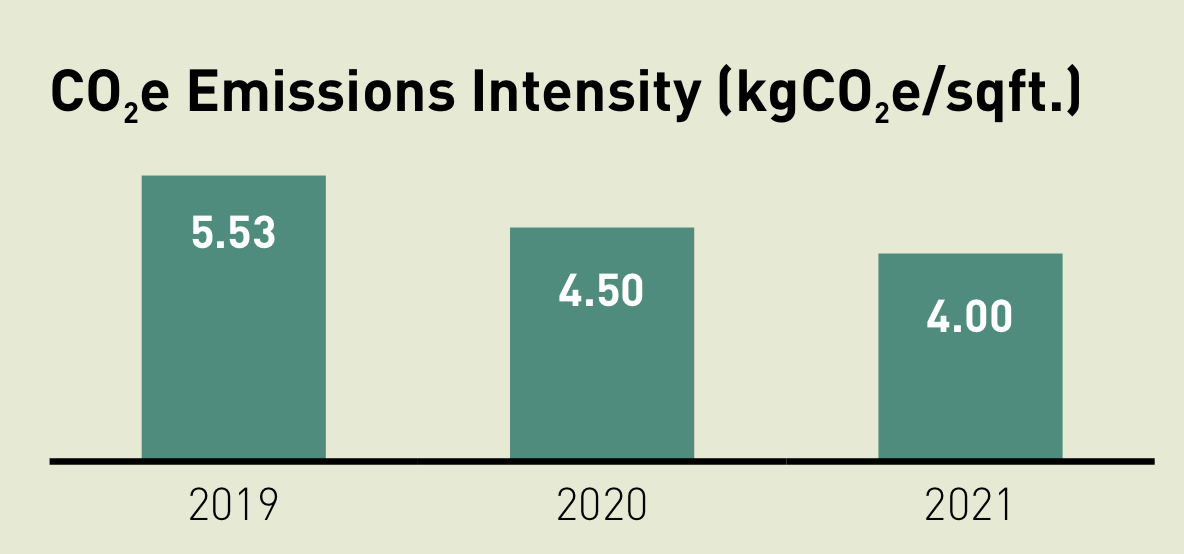 Environmental supply chain
Hektar REIT is committed to environmental sustainability and value creation and has introduced a management policy to address issues arising from tenant operations, covering general environmental conduct and compliance. We can manage our business more efficiently and create long-term stakeholder value by leveraging technologies and analytics that optimise the use of energy, water and waste management across our properties.
Our Environmental, Safety and Health policy is readily available to all employees, tenants, suppliers and service providers.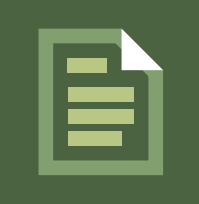 Download the 2022 Sustainability Statement
Our 2022 Sustainability Statement is also available for download as PDF file.