Sustainability report 2018
Material sustainability
Hektar REIT acknowledges material sustainability matters by taking into account the potential risk in our business activities in relation to our social and environmental needs as well as the economic factors impacting the real estate industry.
Material sustainability matters
Hektar REIT acknowledges material sustainability matters by taking into account the potential risk in our business activities in relation to our social and environmental needs as well as the economic factors impacting the real estate industry. Our material areas were also identified based on inputs from both internal and external stakeholders through observation and enquiries received. An internal materiality assessment was carried out to map out our sustainability matters in the steps described in the diagram below.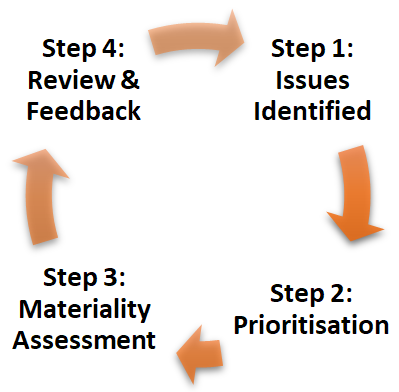 The aspects we consider when identifying material items:
Strategic policies
Considerations discovered during stakeholder surveys and interviews
Risk Management program
Changes in Internal and External operating Environments including trends
Industry Best Practices and Benchmarks
Framework of sustainable Development
Principles regarding the scope of reporting
Upon completing all four steps, the list of sustainability matters material to our business and to our stakeholders can be summarised as follows: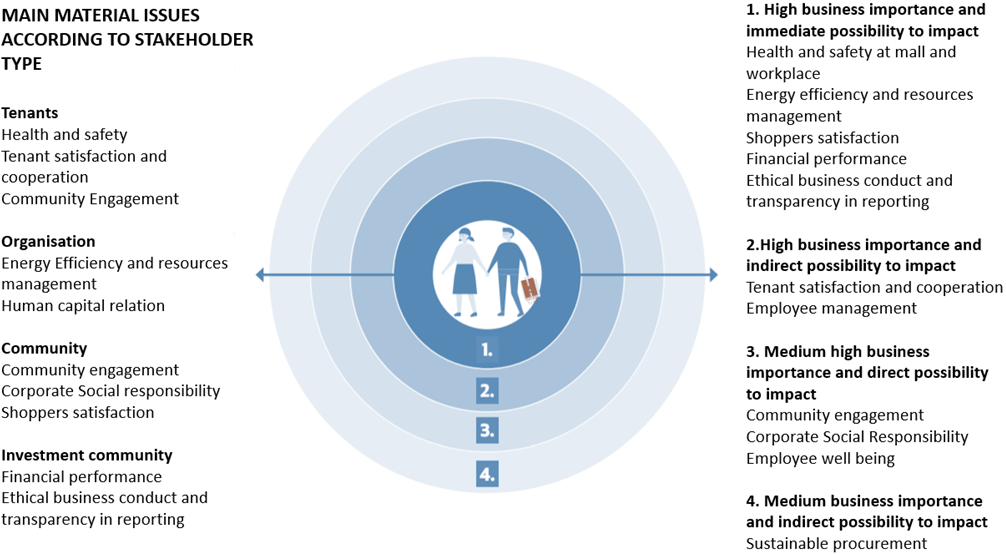 Sustainability goals: resilient assets, robust governance and relevant investments
Prioritising good health and well-being by:

Ensuring that employees lead a balanced lifestyle and encouraging healthy activities;
Organising regular staff gatherings to promote bonding and appreciation; and
Educating end-users, including employees, tenants, shoppers and the general community.

Prioritising safety of employees, tenants and shoppers by

Maintaining zero fatality at workplace;
Periodically reviewing safety procedures and responses towards safety issues; and
Educating tenants and shoppers on safety issues and emergency responses.

Observing a high standard of corporate conduct which is integral to ensuring the sustainability of the organisation's business as well as safeguarding shareholders' interests and maximising long-term shareholder value. This means:

Adherence to corporate governance and practicing high level of disclosures, bilateral communication and conduct risk management audit; and
Establishing a secure whistle blowing reporting framework.

Continuing initiatives and introducing new measures to reduce impact on the environment such as water management, waste management, paper conservation and energy management with the aim of:

Achieving a minimum 10% reduction in energy consumption across our investment portfolio on a like-for-like basis by the year ending December 2022;
Introducing an energy benchmarking system across the portfolio;
Engaging with our new and existing tenants within our multi-let buildings to encourage optimum operational efficiency of their premises; and
Reducing paper wastage at Hektar offices, including defaulting to double-sided and black and white printing, encouraging the use of e-mails, e-fax and encouraging employees to reduce paper use.

Maintaining financial performance and governance:

Ensuring sustainable returns to unitholders, stability in capital structure and continuity of growth in DPU through our investment strategies.

Engaging with and contributing to the community to honour our role in the community, with the aim of:

Providing sustainable employment, supporting the communities in which we operate; being responsible neighbours and developing as well as maintaining strong relationships;
Collaborating with tenants in organising and promoting community projects; and
Understanding the potential of our properties as 'placemakers', by creating opportunities for community involvement in the areas that our assets are based, by organising relevant events and becoming venue sponsors to enable community projects.

Ensuring a higher level of tenant satisfaction:

Analysing information received from tenant feedback from marketing campaigns and events in correlation with the tenant's performance;
Aiming for favourable tenant survey results;
Strengthening relationship with tenants by educating and engaging tenants with annual events; and
Addressing key concerns of tenants such as building maintenance and visitor traffic.

Reducing inequalities in employment, training, career advancement and top positions:

Providing an inclusive, open environment for our employees with equal opportunities for individuals and teams to realise their full potential and enabling the business to meet its strategic objectives.

Our Sustainable Procurement consists of processes involving the purchase of goods and services from external sources, predominantly via a competitive bidding process:

Fair opportunities: we encourage local procurement and SMEs as our supply chain partners; and
Developing a competitive and sustainable supply chain: maintaining or improving the procurement process through competitive markets.