Sustainability report 2017
Respect for the environment
Treating Mother Earth the way she deserves to be treated.
Energy management
Energy has always been one of Hektar REIT's largest operating expenditure, which makes up approximately 10% of our operating costs in Year 2017.
With this in mind, we closely monitor our electricity consumption on month-to-month basis. Any unusual spike is thoroughly investigated and addressed. In Year 2017, Hektar REIT has embarked on preliminary efforts to reduce electricity consumption, which collectively resulted in a 4% reduction of our electricity costs.
Our initiatives in driving lower electricity consumption include:
Effective management of equipment requiring high electricity consumption (lifts, escalators, chillers, exhaust and lighting systems);
Controlled use of chillers – optimisation of chiller use based on demand;
Reduction in maximum electricity demand;
Application for Tenaga Nasional Off-Peak Tariff Rider (OPTR) scheme;
Acquisition of reliefs from penalties (connect load charges);
Deployment of LED lighting wherever practical; and
Upgrade of ageing equipment to modern equipment with builtin energy saving features.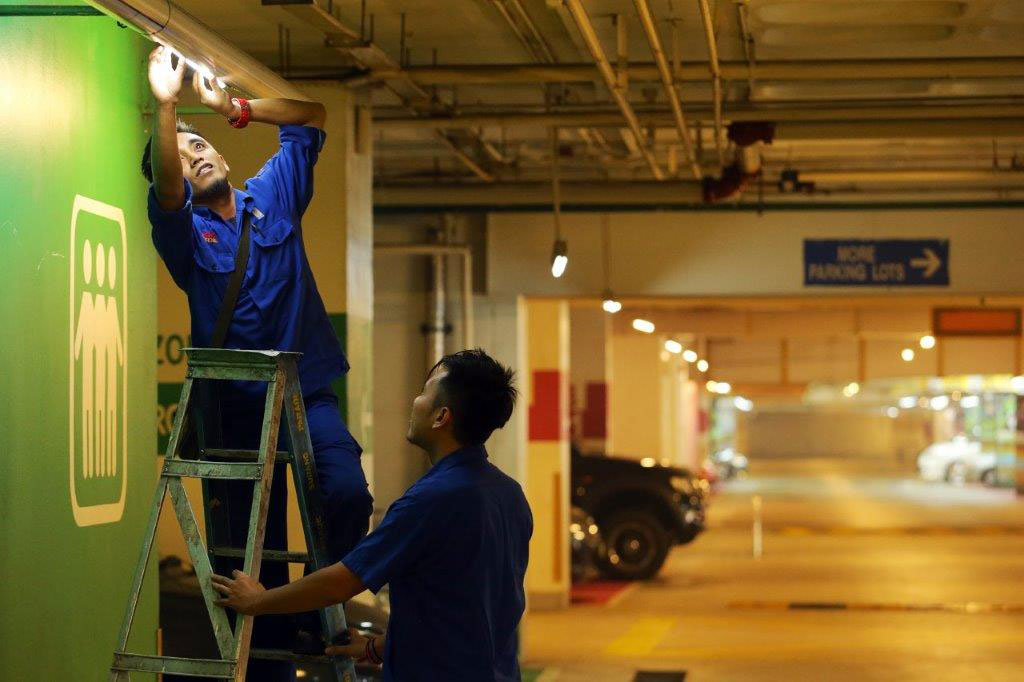 Energy efficiency and energy management
As known in the industry, more than 65% of a building's energy costs are consumed by a building's air conditioning and mechanical ventilation systems (ACMV). In early 2017, Hektar REIT initiated a program to diligently look into its 6 properties' ACMV systems to improve on the group's energy profile.
An energy services company (ESCO) endorsed by the Malaysian Energy Commissions together with an engineering design and project consultant were elected to audit, to analyse and to redesign the ACMV energy blueprints of the six buildings. The exercise gave Hektar REIT valuable data and visibility of its properties' energy variables and areas which can be improved for better energy utilisation and optimisation.
From the harvested and analysed data, decisions that were undertaken were:
Replacement of inefficient chillers, pumps and cooling towers;
Application of variable and dynamic Building Controls and Automation Systems;
Continuous collection and monitoring of energy data for benchmarking, for analysis and for further energy improvements;
Reduction in maximum electricity demand;
Deployment of LED lightings throughout the building;
Delineation of best practices for optimal ACMV operations towards MS 1525 compliant. The expected outcome of the exercise will reduce an overall energy consumption of Hektar REIT's ACMV systems from a factor of 1.0 to 0.7, giving an average 30% savings on the buildings' ACMV electricity usage. This also translates to a notable reduction of 13.8 million kg of C02 emissions per year from Hektar REIT malls.
Hektar REIT will continue its systematic engineering improvements approach for its social and environmental efforts; reducing greenhouse gas emissions, environment impacts and energy costs.
Water management
In 2017, several of Hektar REIT's properties kicked off the prudent water management initiative in our efforts to further cut usage. Water at malls are predominantly used for cleaning, landscaping, drinking, cooking, flushing toilets, fire prevention and airconditioning.
In Subang Parade alone, a saving of nearly RM 10,000 a month was achieved since October 2017 due to the following initiatives:
Water management awareness for retailers and cleaning staff;
Fixing of leakages;
Tightening of couplings in water pumps;
Continuous monitoring and inspection of water pumps and valves for effectiveness; and
Time-controlled water faucets for all public washrooms.
Moving forward, more initiatives will be implemented in Subang Parade, with other shopping centres adopting the best practices developed there. We expect to enjoy the full outcome of these efforts in 2018, as we strive to continue exploring ways in which to conserve water consumption at all our malls. These avenues may include the installing of additional water-efficient fittings and harnessing the potential of rainwater harvesting.