Sustainability report 2017
Respect for the environment
Treating Mother Earth the way she deserves to be treated.
Energy management
The year 2018 had been a challenging yet eventful year for Hektar REIT in the pursuit of a better energy utilisation and optimisation of its six properties. The implementation of Imbalance Cost Pass-Through (ICPT) by Tenaga Nasional from 1 July 2018 had resulted in a considerable increase in the utility cost of each property. Despite the rising cost in operation, Hektar continues to strengthen our measures in energy management to reduce the impact on the environment.
We are currently working with an Energy Services Company (ESCO) endorsed by the Malaysian Energy Commission together with an engineering design and project consultant.
Hektar had completed a number of initiatives under the Energy Efficiency (EE) programme for our malls, namely:
Replacement of the Air Conditioning and Mechanical Ventilation (ACMV) system with application of variable and dynamic Building Controls and Automation system for Subang Parade and Wetex Parade (i.e. Classic Hotel). Generally more than 65% of a building's energy costs are consumed by a building's ACMV;
Further revamp of the ACMV system were also extended to Mahkota Parade and Central Square under the JMB and MC;
Implementation of monitoring programmes by the maintenance team to optimise electricity consumption i.e. reducing maximum demand, application of Off-Peak Tariff Rider (OPTR) scheme, controlled use of chillers etc. for all Hektar REIT malls;
Upgrading of ageing equipment including the deployment of LED lightings, which commenced at Subang Parade on a full scale; and
Minimising reliance on equipment with heavy energy consumption and shifting towards energy efficient designs.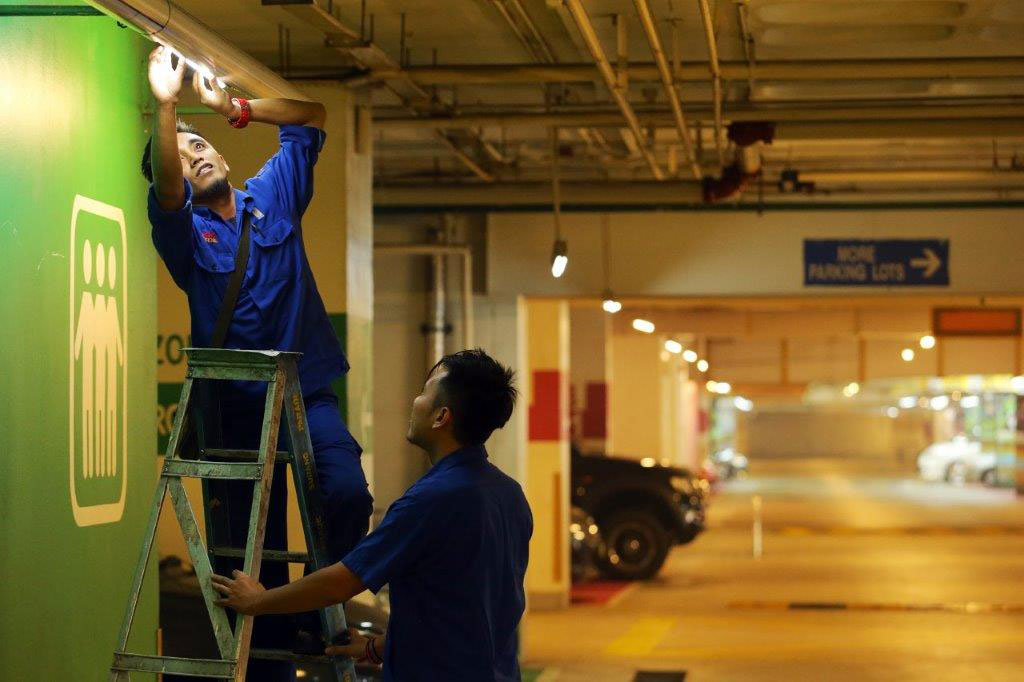 The outcome from the above exercises had contributed to reduction in electricity consumption from respective ACMV systems and others ranging from 20% to 30% during maximum demand and normal hour, with notable savings from Subang Parade.
A few key initiatives have been carried out at other Hektar REIT malls which had resulted in lower average monthly consumption of electricity in FY2018 as compared to FY2017, as illustrated below:
Mahkota Parade
Replacement of chiller
Regular servicing of AHUs & FCUs
Average Monthly Electricity Consumption
2017: 834,799 kWh
2018: 769,369 kWh
Variance: 65,430 kWh (7.8%)
Wetex Parade
Replacement of chiller, cooling towers, pumps, AHUs & FCUs (for Classic Hotel)
Regular servicing of AHUs & FCUs (for mall)
Average Monthly Electricity Consumption
2017: 308,299 kWh
2018: 274,268 kWh
Variance: 34,031 kWh (11.0%)
Central Square
Replacement of chiller, cooling towers & pumps
Regular servicing of AHUs
Average Monthly Electricity Consumption
2017: 531,151 kWh
2018: 411,006 kWh
Variance: 120,145 kWh (22.6%)
Segamat Central
Regular servicing of AHUs & FCUs
Close monitoring by maintenance team on operations of major air conditioning equipment
Average Monthly Electricity Consumption
2017: 320,044 kWh
2018: 287,299 kWh
Variance: 32,745 kWh (10.2%)
Kulim Central
Kulim Central registered an increase in its average monthly electricity consumption due to increase in the GFA from the recent AEI.
In total, for the year 2018, energy savings for Hektar REIT's portfolio reached RM2.6 million.
As intended when we first embarked in the EE programme, Hektar is on the right track in achieving its minimum 10% reduction in energy consumption across our investment portfolio by the year ending 2022.
Hektar REIT will continue to invest its resources in strategies and efforts that will uphold the idea of being environmentally conscious, by continuously engaging our internal and external stakeholders. Existing measures under the EE programme will be enhanced in order to gain the maximum benefit from selective improvements, as exampled below:
Installation of heat-repellent materials in the building to minimise excessive air conditioning;
Enforcement of fit-out guidelines such as fully covered ceiling to prevent air leaks; and
Effective management of lightings.
Taking the lead as a model for the other Hektar REIT malls, it is planned for Subang Parade to pursue the Green Building Index (GBI) certification in the near future.
Moving forward, Hektar REIT will explore the opportunities in Renewable Energy (RE) programmes that encourage the use of renewable sources to further minimise the environmental impact. Hektar REIT malls will be testing grounds for proven technologies such as solar panels and rain water harvesting to demonstrate our participation in green causes and awareness campaigns.
Water consumption
Hektar recognises that water consumption is an important area for conservation of natural resources within its properties. Our team takes initiatives to carry out water saving and towards educating tenants on water consumption. In the previous year, several of Hektar REIT's properties kicked off the prudent water management initiative in our efforts to further cut usage which enabled us savings of nearly RM10,000 a month in Subang Parade alone.
The following measures had continuously been implemented and monitored across Hektar REIT's malls:
Constant check and adjustment on piping systems for optimum flow;
Immediate rectification on leakages or loosening pumps and valves;
Installation of water-efficient fittings e.g. self-closing water faucets, dual flush toilets, flow regulators at pumps etc; and
Creating awareness in the maintenance team and tenants on water preservation
More initiatives will be explored to control the water consumption at Hektar REIT's malls. The Management of Hektar REIT recognises the need to further enhance the initiatives towards incorporating the best practices in preserving water for environmental benefit as a whole.
Waste maintenance and management
As most shopping centres in Malaysia are championing the 3R (Reduce, Reuse & Recycle) programmes, Hektar REIT's malls are exploring various means to be a part of the 'green' initiatives. Hektar REIT aspires to contribute to a greater cause in a sustainable environment by being actively involved in collaborations with local communities and authorities as well as government bodies and non-governmental organisations (NGOs).
Hektar REIT recognises the impact of improper waste treatment and its harm to the environment, which can be reduced through good waste management practices. It endeavours to work closely with property managers towards reducing waste, minimising non-recyclable waste and educating tenants and shoppers on appropriate practices, where possible. Our refuse centre is located at each mall for the convenience of our tenants to dispose their waste, whilst the centre management enforces strict house rules to ensure that they are being adhered to. Sufficient waste bins are also placed at high traffic areas for use by shoppers and consistently being cleared by the cleaners. The initiatives taken include:
Ensuring that contractors (including cleaners, maintenance personnel, etc.) comply with the policy with respect to the use of hazardous materials and the disposal of materials;
Encouraging reduced and responsible usage of paper at workplace; and
Increasing placement of recycling bins at strategic locations at the properties.