CSR
Corporate Social Responsibility
Giving back to the Community.
Community and charity
Our buildings are often located at the heart of a community and have a key role to play in supporting the well-being and economic development of the surrounding area. We have both the responsibility and the opportunity to support these communities through our operations. With a total of 32 million visits in 2018, Hektar REIT's malls had the pleasure of organising many interesting activities and events for the public to enjoy and be entertained whilst being in the mall. Most of the time these exciting events are held in our own centres, however we do seek for collaborations with government agencies, charity foundations and independent NGOs to participate in CSR projects that allows us to contribute to the community. The objective of this move is to give back to society, to encourage responsibility and social awareness and to ensure that we leave a positive impact on our communities. Our focus this year was to work with local community organisations to address needs in our communities. It was achieved through activation of underutilised and vacant spaces, organising donation campaigns and supporting local fundraising and community related events in the arts, health, safety and sports area.
In 2018, we kick started our annual Corporate Social Responsibility program with Chinese New Year celebration in our shopping centres. Mahkota Parade's journey of giving began with partnering with Majlis Bandaraya Melaka Bersejarah (MBMB) who had assisted in identifying 15 homes from three districts, namely, Melaka Tengah, Jasin and Alor Gajah. These homes were of the B40 group, referring to the bottom 40% of households with monthly income of RM3,900 and below. Each family was given RM100 cash and RM100 worth of household goods which was presented by the management of Mahkota Parade and representatives of MBMB. All in all, it was a successful partnership with MBMB and with the help of the local councilmen, the activity was featured in the local television daily news.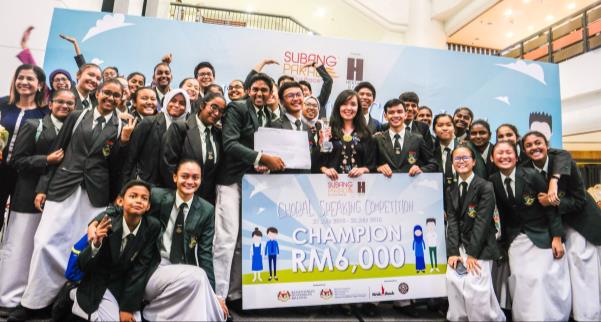 The Segamat Central team organised a visit and brought cheers to 35 senior citizens and 20 orphans at Pusat Jagaan Persatuan Kebajikan Kasih Segamat located at Segamat Baru and Pusat Jagaan Grace Manna House located in Labis. During the visit, our team spent the day with the senior citizens and orphans, and contributed daily necessities such as rice, bread, snacks, biscuits and cooking oils for the homes.
In the month of May, Central Square had collaborated with the Department of Occupational Safety and Health Malaysia (DOSH), the Malaysian Lift and Escalator Association (MALEA), Jabatan Pendidikan Malaysia (JPM) and Jabatan Pendidikan Daerah for a mall safety campaign. A total of 140 students and teachers from 14 primary schools surrounding Sungai Petani participated in this campaign. The campaign which included demonstrations, was organised to promote awareness on the safety issues that could occur in shopping centres which includes the use of lifts and escalators and the appropriate responses in emergency situations. In the same month, Central Square also became a sponsor venue for a blood donation campaign organised by Respack Group of Companies in cooperation with Hospital Sultan Abdul Halim Sungai Petani. Kulim Central held a similar safety awareness campaign in collaboration with DOSH Malaysia and JPM in the same month. A total of five schools participated in this awareness campaign which turned out to be a huge success.
The theme for the Hari Raya festive season was 'Kisah Kasih Di Hari Raya' which was inspired by the customs and practices that often brings out a sense of belonging and togetherness on the 1st Day of Syawal. Subang Parade's management hosted a fun-filled 'Iftar' or 'Buka Puasa' session for 18 young children from Pusat Jagaan Cahaya Kasih Bestari, Kampung Melayu Subang. A total of 23 volunteers helped in making the event a success much to the children's delight. Among the activities planned for the children, was the 'ketupat' weaving session, a scrumptious dinner at New York Steak Shack and some games. The team went shopping to fulfil the home's basic needs and wish list for Hari Raya preparation. We were very happy to see that the children and the caretakers had such a good time at Subang Parade with the management team and the volunteers.
At Mahkota Parade, the management team approached 3 different orphanages from Lembaga Pengurusan Kebajikan Anak Yatim & Miskin (PAYASUM), based in Sungai Udang, Rumah Anak Yatim Sultan Salahuddin Abdul Aziz Shah Al-Haj in Pantai Puteri, Melaka and Pertubuhan Kebajikan Anak-Anak Yatim Islam Daerah Jasin based in Bandar Baru Jasin for an 'iftar' or breaking fast session with the children and their care takers at our very own Seleria Food Court. These 3 establishments houses young children from 3 to 17 years of age. At the end of the day, the establishments were handed daily groceries and other basic necessities which included cooking oil, condensed milk, bath soaps, detergents, toothpaste and shampoos which amounted to approximately RM3,000.
During Ramadhan and throughout the Hari Raya campaign from 18 May to 10 June 2018, Wetex Parade organised a donation campaign for the ninth year. The campaign was meant to encourage the public to lend a helping hand to the needy which included gently used clothing, toothbrushes, toothpaste, shoes, foods, biscuits and other necessities. A shelter box had been placed in the atrium during the Hari Raya campaign for the public to place their contributions for the orphanage. The management invited 49 young orphans for 'Berbuka Puasa' at Kenny Rogers Roasters, Wetex Parade and presented the contributions to representatives from Pertubuhan Kebajikan Anak-Anak Yatim Islam Muar.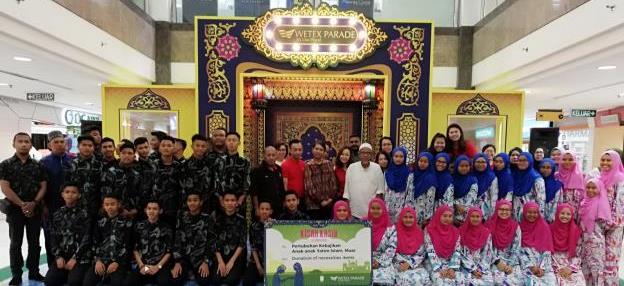 Up north, Central Square collaborated with the Sungai Petani Municipal Council (MPSPK), Syarikat Air Darul Aman (SADA), Pejabat Agama Sungai Petani and Mufti Kedah Office to invite orphans from Kampung Keda Che Bema to join the lunch while the committee members of Masjid Kampung Raja supported our efforts in giving away 'Bubur Lambuk', a popular local porridge dish every weekend throughout the Hari Raya Campaign period. A total of RM5,000 was donated to these two organisations. At the same time, the Management gave away "Duit Raya" to each orphan and broke fast as well as had the "tarawih" prayers together with them. This program also received generous support from several business partners and in-house tenants that included Inbox Events Management, Wedding Planner (Eszz Ibrahim), Masjid Penghulu Him Sungai Petani Committee, Naelofar Hijab, Times Prosper, Aztie Boutique and Habib Jewels with a total sponsorship value of more than RM12,800. The event was also featured in local newspapers.
Kulim Central held an open house in conjunction with Hari Raya Aidilfitri to celebrate with the underprivileged children from Visually Impaired One Stop Centre (VIOSC) which is also known as Rumah Bakti and Rumah Amal. A total of 70 children and care takers attended the event, which was witnessed by YB Datuk Seri Saifuddin Nasution Bin Ismail (Minister of Domestic Trade and Consumer Affairs, Member of Parliament for Bandar Kulim) and YB Tuan Karupaiya A/L Muthusamy (Member of Parliament for Bandar Kulim). The event was also supported by Hassani Group and Self-Empowerment & Educational Development Society (SEEDS). During the fasting month, Kulim Central had also given away 300 bowls of 'Bubur Lambuk' to shoppers every Friday during Ramadhan, much to shoppers delight. The management had also partnered with Bukit Kulim Line Dance Association for Parent's day and held a special performance to entertain the visitors. A total of 60 participants joined in the fun at Kulim Central.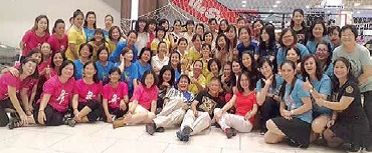 Segamat Central organised a half day visit to Pertubuhan Kebajikan Anak Yatim Islam Segamat which houses 62 orphans to present green packets and donation for the home. The team supplied essential items, including rice, oil, canned food and toiletries which were personally presented by Segamat Central's centre manager to the representatives at the orphanage. During the visit, the team took the opportunity to have an upclose understanding about the children's needs and were given a guided tour showing the children's living environment. The team managed to spend time with the children over games and refreshments. We hope the contribution helped to improve the welfare of the children and that our initiatives will continue to create awareness and encourage the community to participate fund raising in further efforts.
Subang Parade has always been active in education and school matters. In July, the team organised an Inter-school Choral Speaking Competition. At least 9 schools around Subang Jaya and Petaling Jaya participated. The competition was open to secondary schools around the district and was endorsed by the Selangor State Education Department. Among the schools that participated were SMK USJ 12, SMK Damansara Jaya, SMK Subang Utama and many others. Out of the lot, 6 schools were shortlisted for the finals and competed for the Grand Prize of RM6,000 cash and main trophy. Second and third place winners went home with trophies and cash prizes worth RM3,000 and RM1,000 respectively. The idea behind the competition was to encourage learning in a fun way and to promote oral proficiency in English. By organising such competition, we believe that it was a great platform for students to build confidence and show us their teamwork and creativity. During both days, friends, families, teachers and shoppers gave their loudest cheers and encouragement as the students stood on stage. The Subang Jaya state assemblywoman, YB Michelle Ng Mei Sze graced the event with her presence even on a Sunday and presented the prizes to the winners of the competition.
Staying true to our tagline 'Its Our Place!', the idea is to provide more than a shopping destination for the community. We believe in playing a bigger role in the community and are always supportive in organising events that promotes the growth of the community, especially with the younger generation. We hope that fun and engaging experiences will not only be memorable for visitors but will also give them a sense of belonging to our shopping centre.
Kulim Central carried out a number of CSR events in July and August 2018 by becoming venue sponsors and co-organisers to various events: the month started with the celebration of World Blood Donor Day, which was organised by Hospital Kulim, Kedah, followed by Performance day for 'Rope Jumping' day by the Air Merah Primary School, and the 5th Blood Donation drive campaign organised by St John Ambulance Malaysia and Pusat Darah Negara Malaysia.
In conjunction with Hari Merdeka, Central Square organised "Unsung Hero CSR Program", a collaboration with Angkatan Tentera Malaysia (ATM) and ATM Veterans Association of Kedah, Perlis and Penang to identify 6 Unsung Heroes to receive a donation of RM500 each from the Management. This CSR program was held with the objective to give tribute to our "Real Hero" who has sacrificed for the peace and harmony of our beloved country. To celebrate Hari Merdeka and Hari Malaysia, Kulim Central management team went a bit creative and joined hands with Junior Chamber International (JCI) and Persatuan Buddhist Belia and held "Festival Seni" or Art Festival in Kulim Central. The collaboration brought more than 100 participants together and even included primary and secondary school students.
In the month of September, to celebrate Mid-Autumn Festival, Central Square worked together with the Art Association of Kedah Centre to organise an array of activities and programs to create awareness and educate the public on the arts festival. Shoppers and community members were invited to participate in Lantern Making competition and Quizzes, Traditional Chinese Paper Cutting and Lantern Making Workshop and were treated to Traditional Chinese Music Performances.
Kulim Central celebrated Mid-Autumn Festival with QQ Kindergarten & Nursery Kulim, a local successful child education centre. A total of 130 children and parents joined the celebration and participated in lantern making, lantern parade and singing performance. Earlier this year, Segamat Central became the proud sponsor of Tadika Seri Kaya Graduation. A total of 16 six year olds graduated and finished kindergarten. We were happy to play a part in this ceremony and to see the adorable young children and excited families enjoy themselves. Kulim Central also held a batik workshop called "Warna batik" by Perbandaran Kemajuan Kraftangan Malaysia Cawangan Kedah. The workshop was aimed at introducing the art of batik painting to the public and promoting the uniqueness of 'batik'. The workshop included demonstration of batik painting. The invited children from Eduwis Thematic Learning Centre were given the opportunity to try their hand at the pre-set batik drawings and take home the paintings. The children certainly enjoyed themselves during the workshop.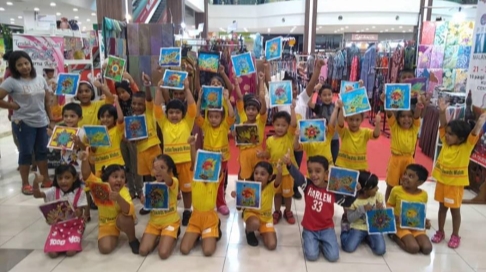 For the Festival of Light, Central Square worked with the Jabatan Pendidikan Daerah to identify five Tamil schools in the vicinity that needed financial aid. A total of RM5,000 was donated to these schools. The school children, with the support from the Persatuan Ibu Bapa dan Guru (PIBG) of the respective schools provided Central Square with fantastic performances for their visitors throughout the Deepavali Campaign period. In Kulim Central, the management invited 50 children and their caretakers from Batu Grace and Sunshine Homes to have a day out at Kulim Central. YB Tuan Karupaiya A/L Muthusamy, Member of Parliament for Bandar Kulim, even graced us with his presence during the event. The children had a go at bowling at Ole Ole Bowling, participated in the "Paint the Bowling Pin" workshop and went home with goodie bags afterwards. One of the most memorable outreach programmes held at one of our centres this year was the outreach campaign which was held in conjunction with Psychology Day. The event was titled 'Stay Away and Safeguard HIV/AIDS and was a program by Tuanku Sultanah Bahiyah Polytechnic students, Kulim. The campaign was aimed at raising awareness of the psychological aspects of living with HIV/AIDS disease and to end the common stigma by the public. Part of the activities included complimentary health check, blood donation drive, and a health exhibition.
November was a busy month for Central Square, as the centre held the first ever visual art exhibition and competition which was organised by the Malaysian Junior Art Education Association and co-organised by Ministry of Education of Malaysia and Jabatan Kesenian Malaysia.
Segamat Central went the extra mile for Christmas by keeping the gift-giving tradition alive and involving shoppers to join us for our charity program. Shoppers were encouraged to donate presents for the children from Grace Manna House in Labis, Teenage Girl's home in Kg Tengah and Junior Boy's Home in Bukit Siput. A total of 92 beautifully wrapped presents were donated for the cause. The presents were placed under the Christmas tree in the shopping centre and were distributed to a total of 35 children from the homes together with Santa Claus.
As the year comes to an end, our malls are often crowded with visitors and tourists especially with year-end school holidays and Christmas season which is the perfect time to encourage our shoppers to perform their last bit of charity to end the year in high spirits. This year, we joined a group partnership with Boost, an application based mobile wallet and Make-A-Wish Malaysia Foundation, which was founded with the aim to grant the wishes of children with life-threatening medical conditions. Shoppers were welcomed to pledge any amount of their choice to the chosen foundations just by scanning the Boost QR code at the Guest Services Desk or the payment counter of merchants in our centres using the Boost application. This is a great way to help bring cheer to the children this Christmas season, giving them a sense of joy and hope. Together, with everyone's pledges, we hope to fulfil as many life-changing wishes for these children. We are very grateful that we were given the opportunity to be a part of something meaningful, to change people's lives, to simply put a smile on their faces, to simply be there to lend a helping hand. We are very proud of the effort that has been put in by our teams. These experiences have humbled us. We sincerely hope that we have made a difference by leaving a positive impact in the communities we operate in and encourage others to do the same.