CSR
Corporate Social Responsibility
Giving back to the Community.
Our buildings are located at the heart of a community and have a key role in supporting the well-being and economic development of the surrounding area. We have both the responsibility and the opportunity to support these communities through our operations.
Indeed, this year has been an extremely challenging year for individuals and businesses alike in Malaysia due to the COVID-19 pandemic that has hit not just our nation but the entire world. Retail was one of the most adversely impacted industry from this pandemic. Nevertheless, we strive to continue to remain relevant to the surrounding community.
Our focus this year was to work with local community organisations to address the needs in our communities. We have taken more initiatives to continuously carry on our CSR activities following the new standard operating produces (SOPs) introduced by the relevant authorities which has resulted in areduction of our crowd gathering events during this challenging time. Notwithstanding, impactful CSR programs such as blood donation drives and necessity collection were important programs that were carried out throughout the malls to truly benefit those affected by the pandemic.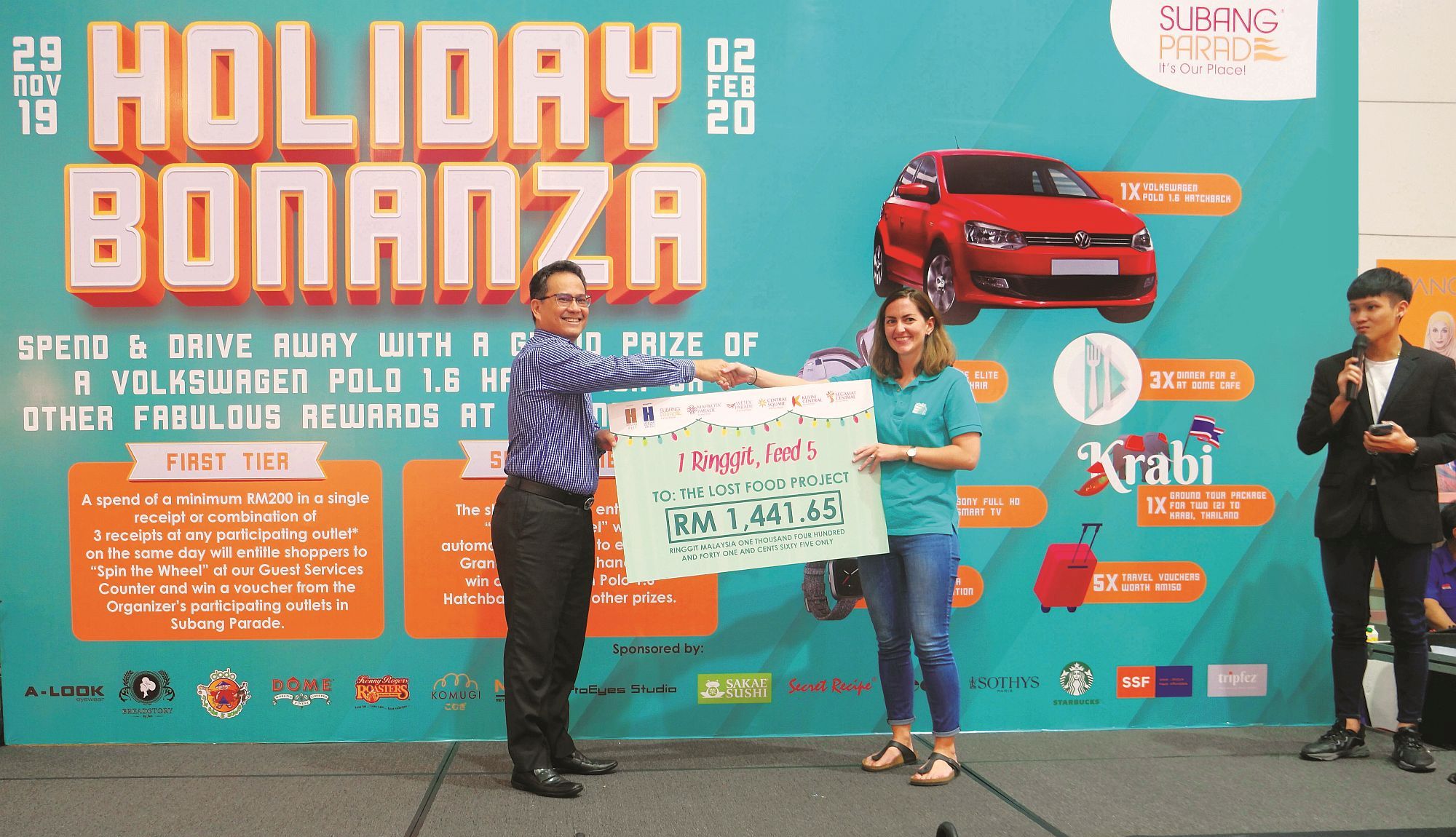 1 Ringgit Feed 5
Prior to the COVID-19 pandemic, all centres collaborated with an NGO called The Lost Food Project Malaysian (TLFP) not-for-profit organisation dedicated to a sustainable future by rescuing 'lost' food and finding it a new home with people who need it most with a campaign called '1 Ringgit Feed 5' which was carried out from Christmas 2019 through the New Year 2020. TLFP prevents quality, nutritious food and other surplus goods from going to the landfill, and redistributes these food and other essential items to those in need – regardless of religion, gender, age, disability or ethnic group. The campaign had successfully collected a sufficient amount to feed over 7,000 recipients. The cheque for the total collection was presented by our Executive Director and Chief Executive Officer, Dato' Hisham bin Othman, to The Lost Food Project in February 2020 in Subang Parade.
Hektar Cares (Flood Relief Program)
Muar town was hit by a flash flood on 13 July 2020 due to a heavy downpour. 11 staff from Classic Hotel and Wetex Parade were badly affected whereby their homes were inundated with water causing damages to furnitures and electrical equipments. Hektar presented RM500 to each affected staff as a financial relief and donation to ease the burden of those affected with a total of RM5,500 given out as part of our CSR initiative.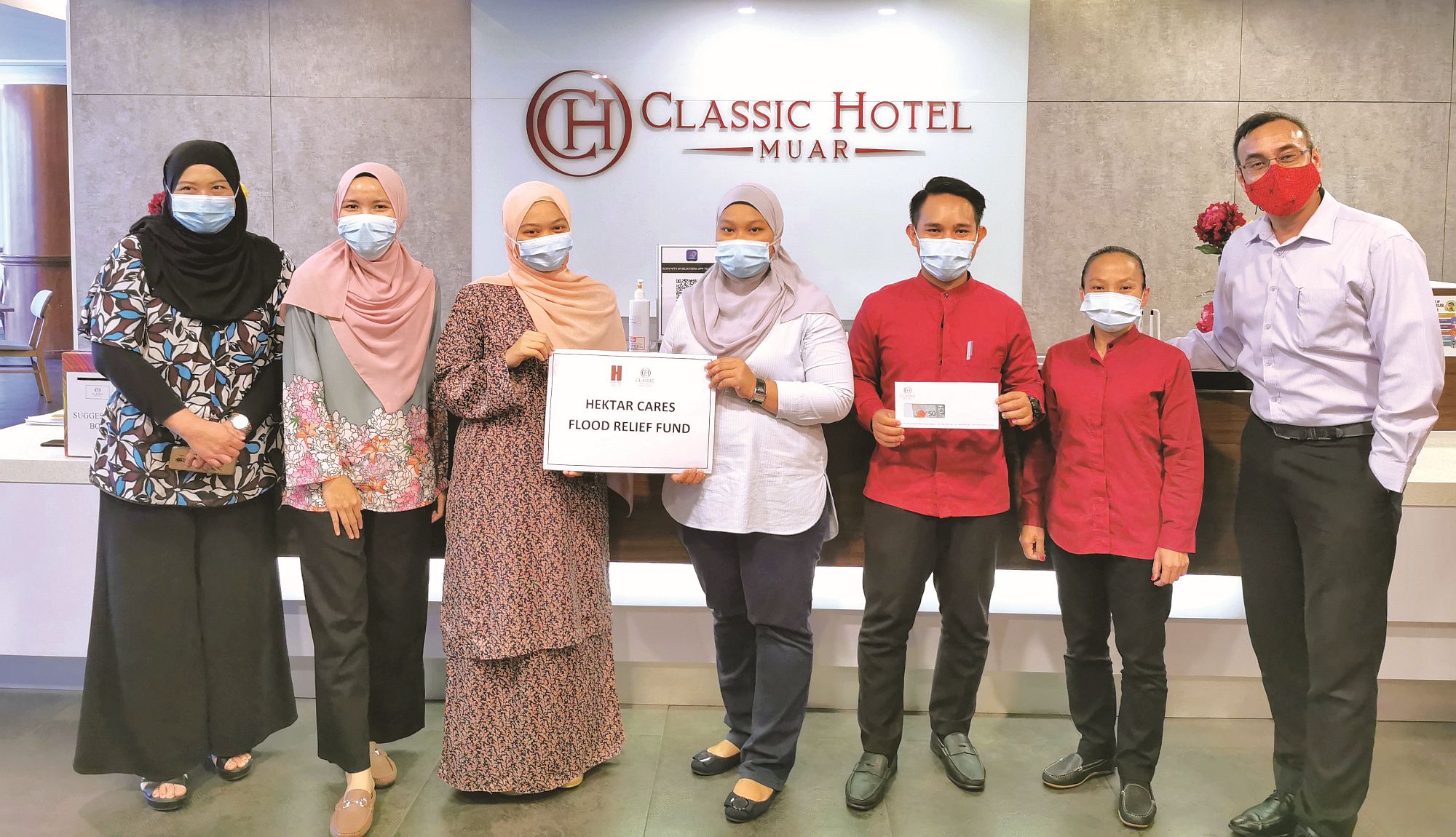 Hektar Helping Hand
This campaign was initiated after the Movement Control Order (MCO) was lifted in June 2020 with an objective to strengthen all Hektar malls' position as a community mall. It is a community-driven project where our mall would serve as a hub to generate donations either in monetary or item contributions that will greatly benefit those who are affected and struggling to cope with the COVID-19 pandemic.
Subang Parade implemented a monetary donation drive for the period of August to December 2020 for Yi Jing Old Folks Home in USJ 2 as the home was heavily impacted by the pandemic. Subsequently, in October 2020, Subang Parade then provided space for the Sri Agathiar Sanmarka Sangam & Persatuan Kebajikan Thirumular Malaysia to collect food and donations for the underprivileged families which were also impacted by the pandemic. Mahkota Parade, on the other hand, collected monetary contributions from the shoppers to be given to the needy in Malacca that's affected by the pandemic with a joint collaboration with Majlis Bandaraya Melaka Bersejarah (MBMB) that will also be contributing groceries and necessities to the identified families.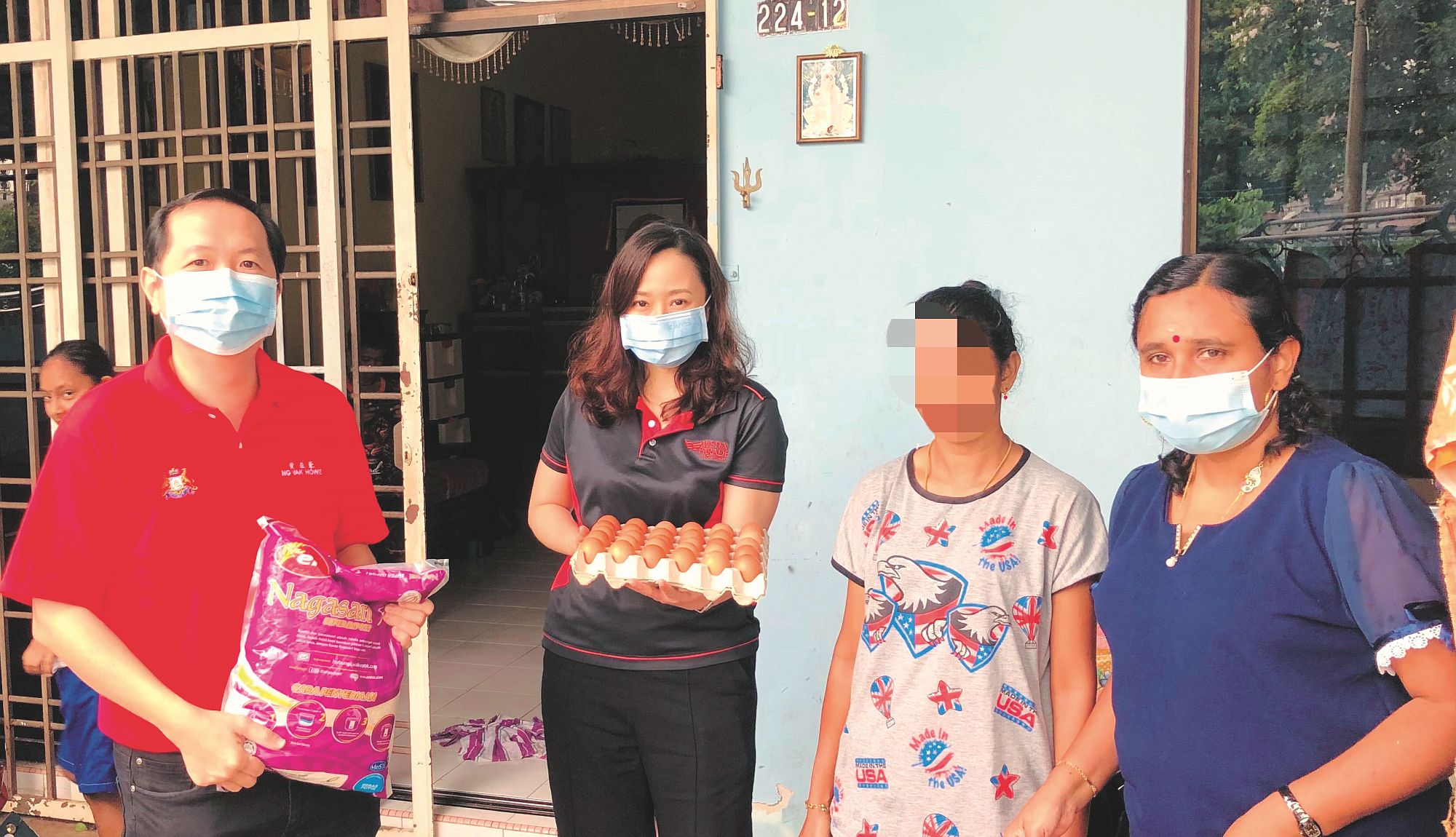 In Muar, Wetex Parade collaborated with Pusat Khidmat Rakyat Parlimen Bakri to help struggling Indian families who were affected by the COVID-19 pandemic in Muar. Donations for necessity items such as rice, oil and other food items as well as toiletries were given to the families. In Sungai Petani, Central Square collaborated with the Department of National Unity and Integration Kedah to distribute grocery items to a total of 30 affected families. This program was held from 15 June to 31 December 2020.
Meanwhile, Kulim Central collaborated with Jabatan Kebajikan Masyarakat Kedah, W1SEE, Kelab Belia & Sukan Kulim, Kak Sal Sardine, Hang Tuah Coffee, Giant, and Alagappas Mills Overall on the collection of donations since August 2020 where 16 local families selected by Jabatan Kebajikan and Kelab Belia & Sukan Kulim were the beneficiaries and recipients of the donations. In Johor, Segamat Central collected donations and worked with Junior Chamber International (Segamat Area) on a campaign called 1Food1Love where collection of daily necessities and monetary donations were dedicated to local families who were affected.
Chinese New Year Giving
During the 2020 Chinese New Year festivities, Mahkota Parade collaborated with the local municipal, Majlis Bandaraya Melaka Bersejarah (MBMB) to visit 10 Chinese families around Melaka Tengah district, who were from the bottom 40 ("B40") income group (families with household incomes below RM1,500). Support in the form of providing household goods and red packets giveaways were given to the families.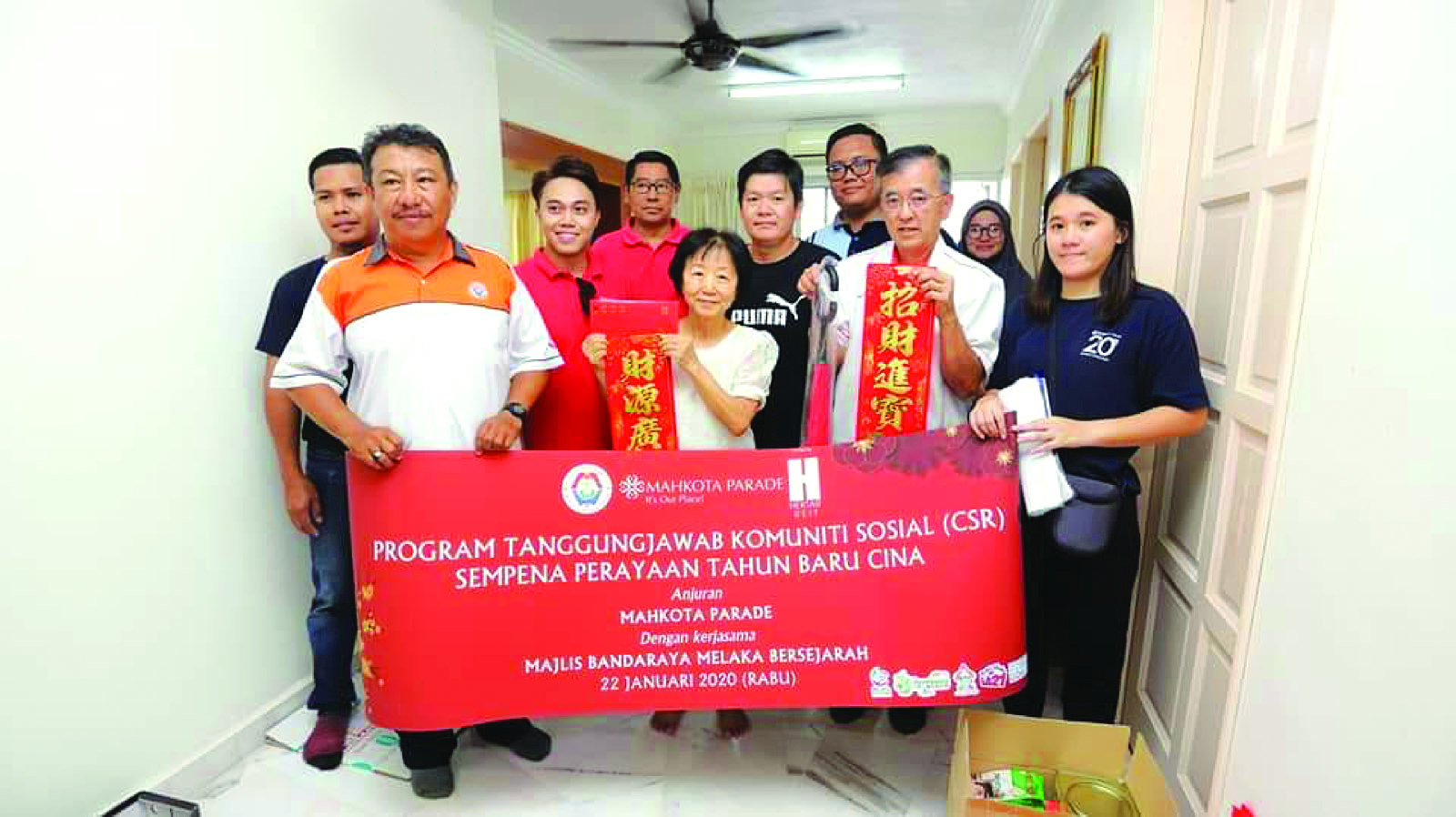 CNY Lou Sang with Rotary Club
On 3 February 2020, Central Square kick-started the CSR program with the Chinese New Year Campaign themed 'Abundant Blessing', in collaboration with the Rotary Club of Sungai Petani which regularly helps orphanages, underprivileged children and autistic children. The Management also celebrated the Lou Sang Party with lion dance blessing and were joined in the celebrations by the tenants and media on the concourse area at the ground floor. This event was featured in several local newspapers, namely Sin Chew Daily, Kwong Wah Yit Poh, and China Press.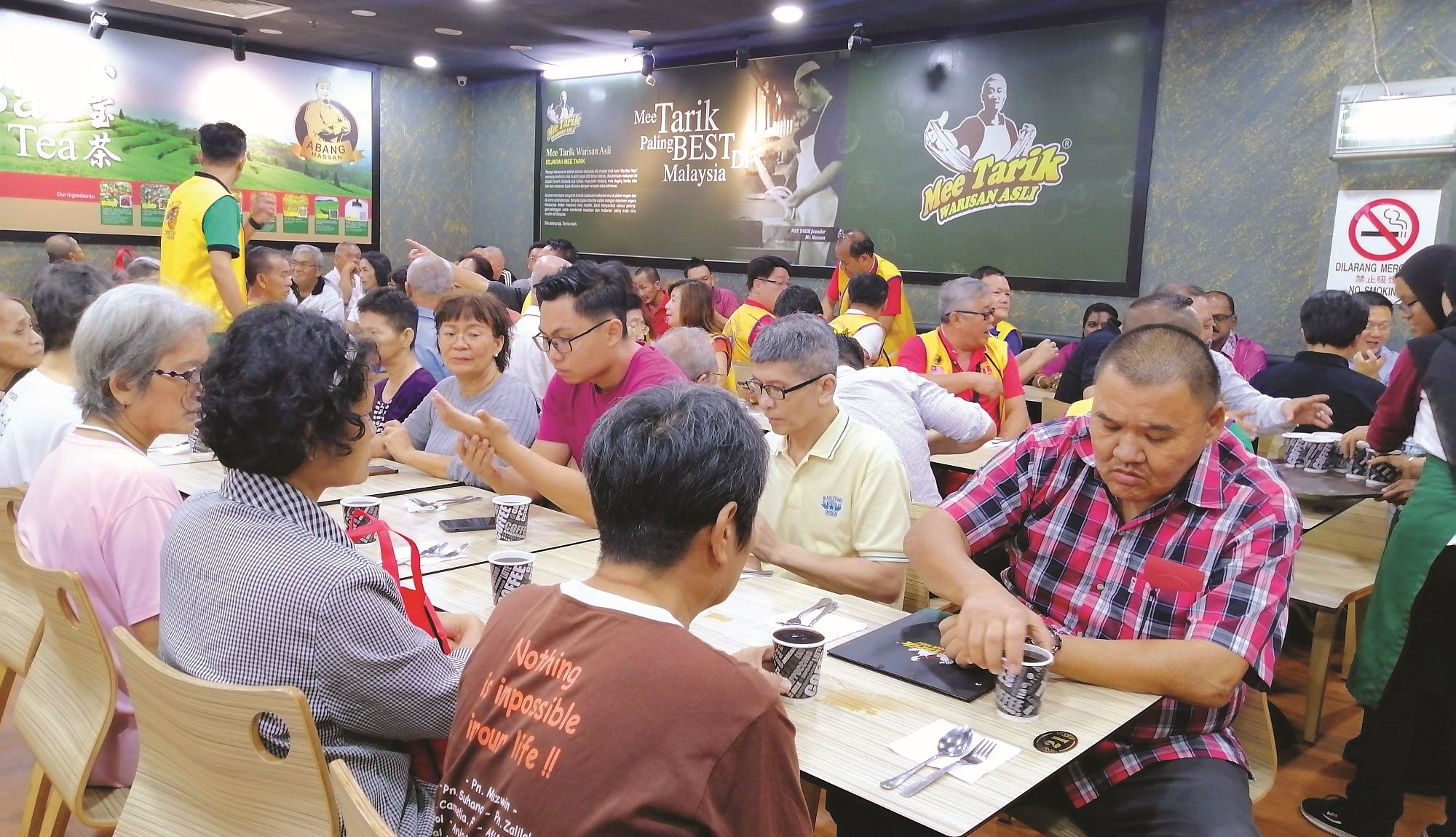 CNY with Old Folks
Kulim Central, in collaboration with the Lions Club Malaysia, Kulim General Hospital, McDonald's, De' Touch Hair Saloon, Mee Tarik Warisan and Giant Super Store invited Pusat Jagaan Saw (local Old Folks Home) for free haircut and health screening sessions for 30 old folks from the Home. Those who have serious cataract issues were referred to an eye specialist for free surgery. McDonald's sponsored breakfast meals for the event while Mee Tarik Warisan and Giant offered lunch meals goody bags to the participants respectively. The old folks were happy and grateful and sang the "Chinese New Year Thank You" song in appreciation of the efforts and initiatives by the Kulim Central management.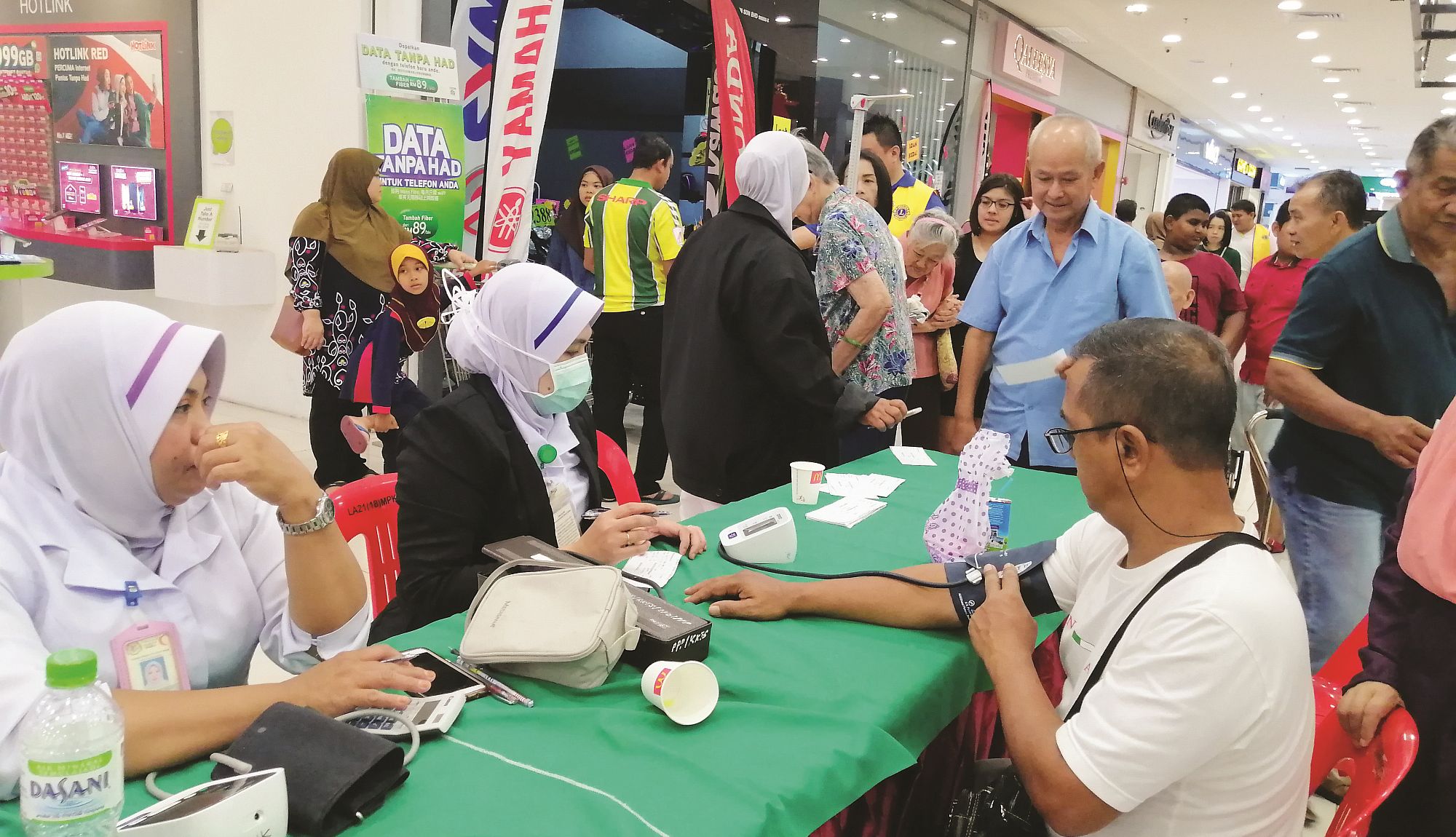 Meanwhile, Segamat Central also celebrated their Chinese New Year with the old folks when they held a Reunion Luncheon with senior citizens at the old folk's home of Pusat Jagaan Persatuan Kebajikan Kasih Segamat on 6 February 2020. At the Luncheon, Segamat Central also made monetary donations to the home.
Deepavali with Mahkota Parade
For the 2020's Deepavali, Mahkota Parade collaborated with the Family Store to give away groceries to 10 chosen SJK Tamil Kubu Melaka students, who came from broken families and were financially affected by the pandemic. The teachers joined the management of Mahkota Parade and the Family Store to visit the families of the students where the groceries were then handed over to the recipients.
Frontliner's Appreciation
This year's Christmas was special as Mahkota Parade created a campaign to thank the country's frontliners that stood firm whilst the country struggled to contain the effects of the pandemic. Mahkota Parade decided to give away goodie bags, consisting of shopping vouchers and gifts to the frontliner workforce as a token of appreciation and respect.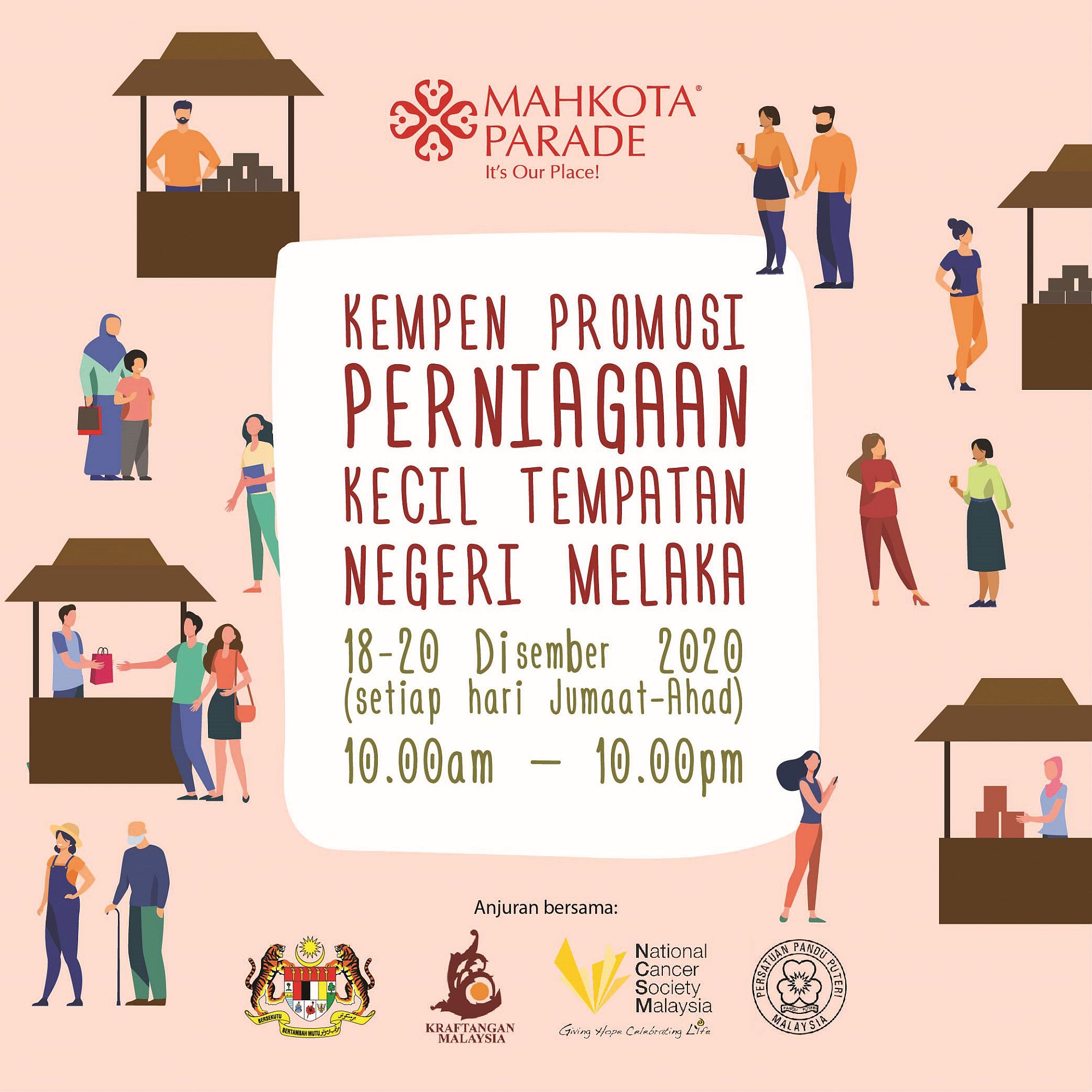 Mahkota's Christmas CSR Campaign
Starting November 2020, small local entrepreneurs joined the "Program Kempen Promosi Perniagaan Kecil Tempatan Negeri Melaka" which was held in Mahkota Parade every Friday to Sunday. This program was held in collaboration with the Pengerusi Jawatankuasa Pertanian, Penternakan, Pembangunan Usahawan & Koperasi Negeri Melaka, Federal Agricultural Marketing Authority (FAMA), Jabatan Pertanian, and was supported by agencies such as Melaka Halal Hub, SME Corp, Ministry of Domestic Trade and Consumer Affairs (KPDNHEP) and Kraftangan Malaysia Melaka in efforts to assist small businesses that were badly affected during the MCO period, and also to help boost the state's economy with the promotion and sale of locally made products.
Sharing is Caring
Central Square initiated this campaign with orphanages and children from low-income families during this year's Christmas celebrations in collaboration with Jabatan Perpaduan Sungai Petani. The management team treated 20 children to an enjoyable meal sponsored by D'sara Fried Chicken, one of the food court tenant at Central Square.
Women's Day
On 5 March 2020, before the implementation of the MCO, the management of Central Square collaborated with the Department of National Unity and Integration and the Royal Malaysian Police, Kedah on a crime prevention awareness program for audiences and shoppers. This event was launched by the Deputy Chief of Police of Kedah. The Department of National Unity and Integration identified five selected families to be the recipient of a wheelchair each for their disabled family member. Kelab Rukun Tetangga also contributed umbrellas to the audiences who attended the event. Meanwhile, several exhibitions were also held at the Concourse area which consisted of exhibitions from the Agensi AntiDadah Kebangsaan, Lembaga Penduduk dan Pembangunan Keluarga Negara (LPPKN) and Royal Malaysian Police.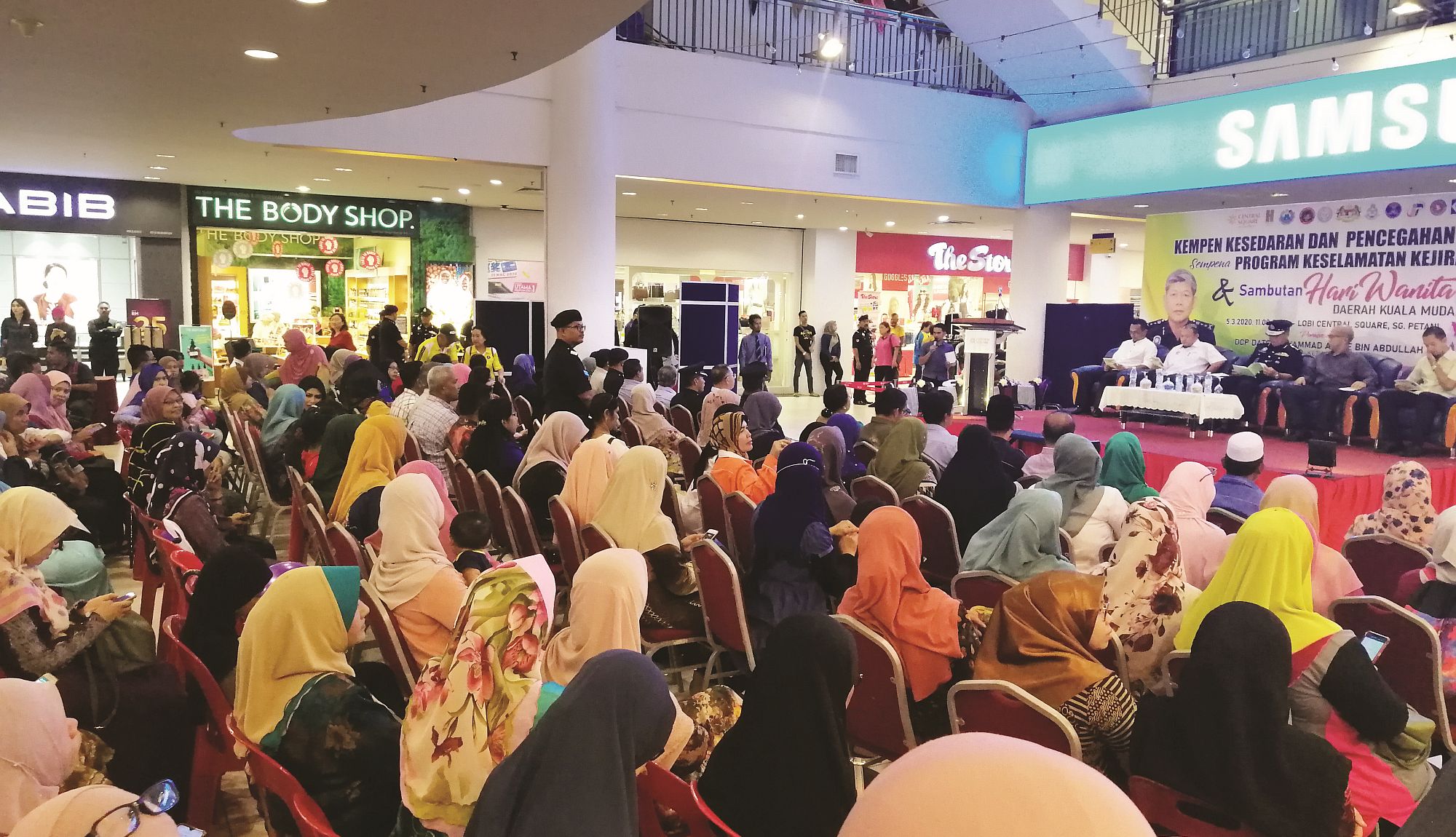 Ambulance Service Launch
Segamat Central and St. John Ambulance of Malaysia (SJAM) collaborated to hold the "Majlis Pelancaran Perkhidmatan Ambulans Kecemasan Sempena Tahun Baru Cina" at the Main Concourse Area of the Ground Floor, on 18 January 2020. This launch event was held to introduce the ambulance service from SJAM which was available to the community in Segamat.
National Day at Segamat Central
The "Program Mengibar Jalur Gemilang Sempena Hari Kebangsaan ke-63" was held on 29 August 2020 with the participation of Jabatan Penerangan Daerah Segamat at the Main Concourse Area on the Ground Floor of Segamat Central. The management of Central Square had sponsored hand flags to encourage the community in Segamat to display their love for the countrys' flag.
Valentine's Campaign at Kulim Central
Kulim Central organised a campaign 'We Care and Love You' for Valentine's Day on 14 February 2020, in collaboration with Black Orchid Florist. A total of 300 stocks of roses were given to families as surprise gifts, especially to elderly couples who had visited Kulim Central on Valentine's Day.
Cuti-Cuti Muar Merdeka Social Media Contest
All centres collaborated with Classic Hotel Muar for this campaign that was held from August until October 2020. The winner of the contest at Wetex Parade, Ms Lim Ai Wei completed the slogan which read "I am a proud Malaysian because of the language diversity, delicious food, breath-taking places of interest, beautiful traditional costumes and the warmth in everyone's smile make me and every Malaysian beam with pride". Meanwhile, the winner of the contest at Segamat Central, Encik Ali Arshad won with his Bahasa Malaysia slogan which read "Saya bangga sebagai anak Malaysia kerana dapat berbakti selama 34 tahun di JKR, sama-sama membantu membangunkan Malaysia dari segi pembangunan asas, diantaranya Kem Polis Bakri tahun 1970. Muar Bandar Maharani penduduknya ramah hidup harmoni". Winners from each centre received a complimentary travel package gift consisting of a three days two nights stay package at Classic Hotel each valued at approximately RM770.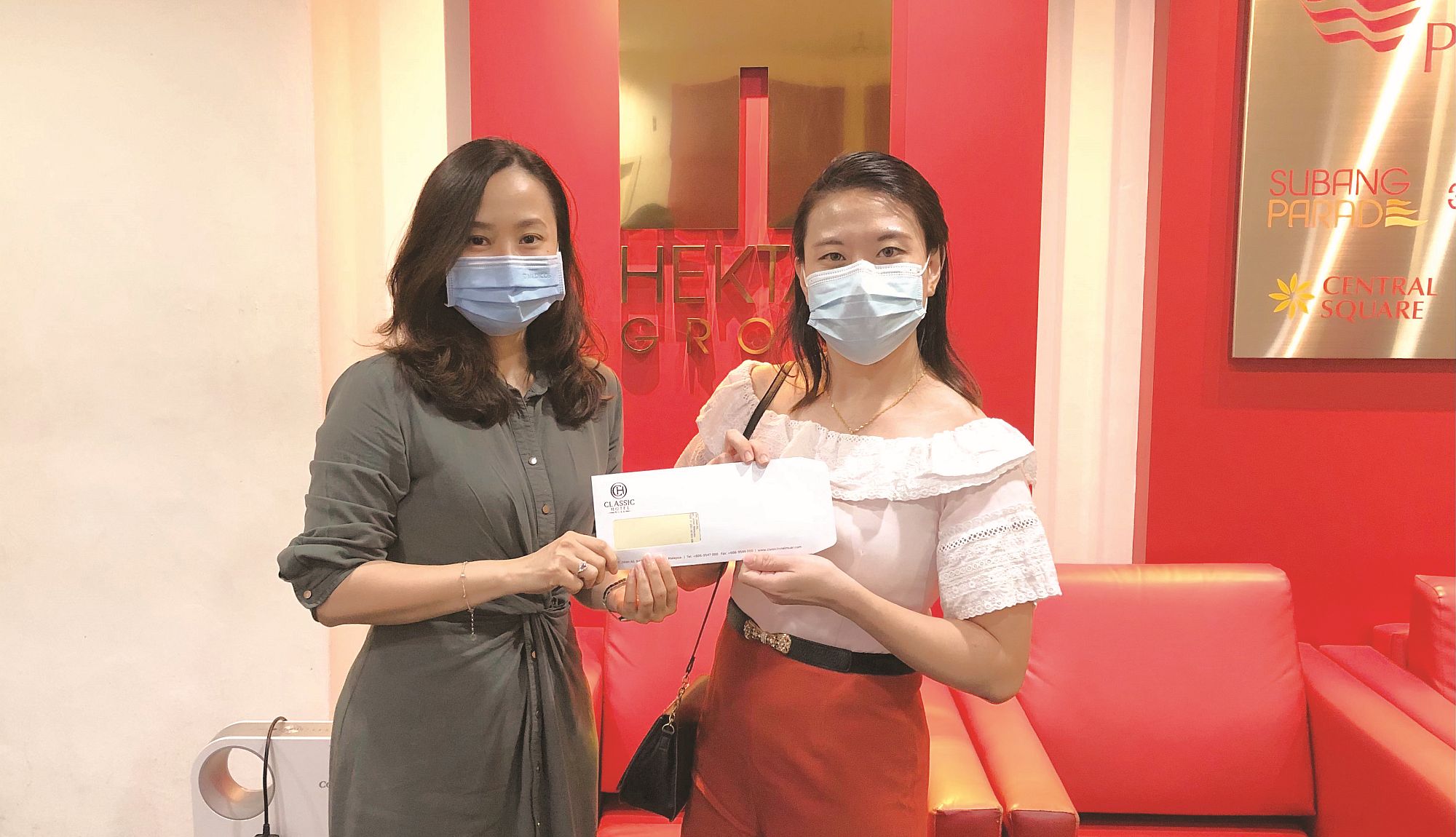 Bukit Mor Clean-Up Day
Classic Hotel Muar had organised a clean-up of Bukit Mor in Kampung Batu Mor, a small village in Parit Jawa, about 18km from Muar. This exercise was meant to conserve the place by creating awareness amongst the hikers to maintain the cleanliness of Bukit Mor. May the spirit of the Bukit Mor Clean-up Day live on in our every climb. The mission is more than just a clean-up effort but also a community service journey that embarks on opportunities for citizens of all races and creed to work together towards a common vision. Through this clean-up activity, we hope it will not only bring the people closer but also spread the spirit of unity.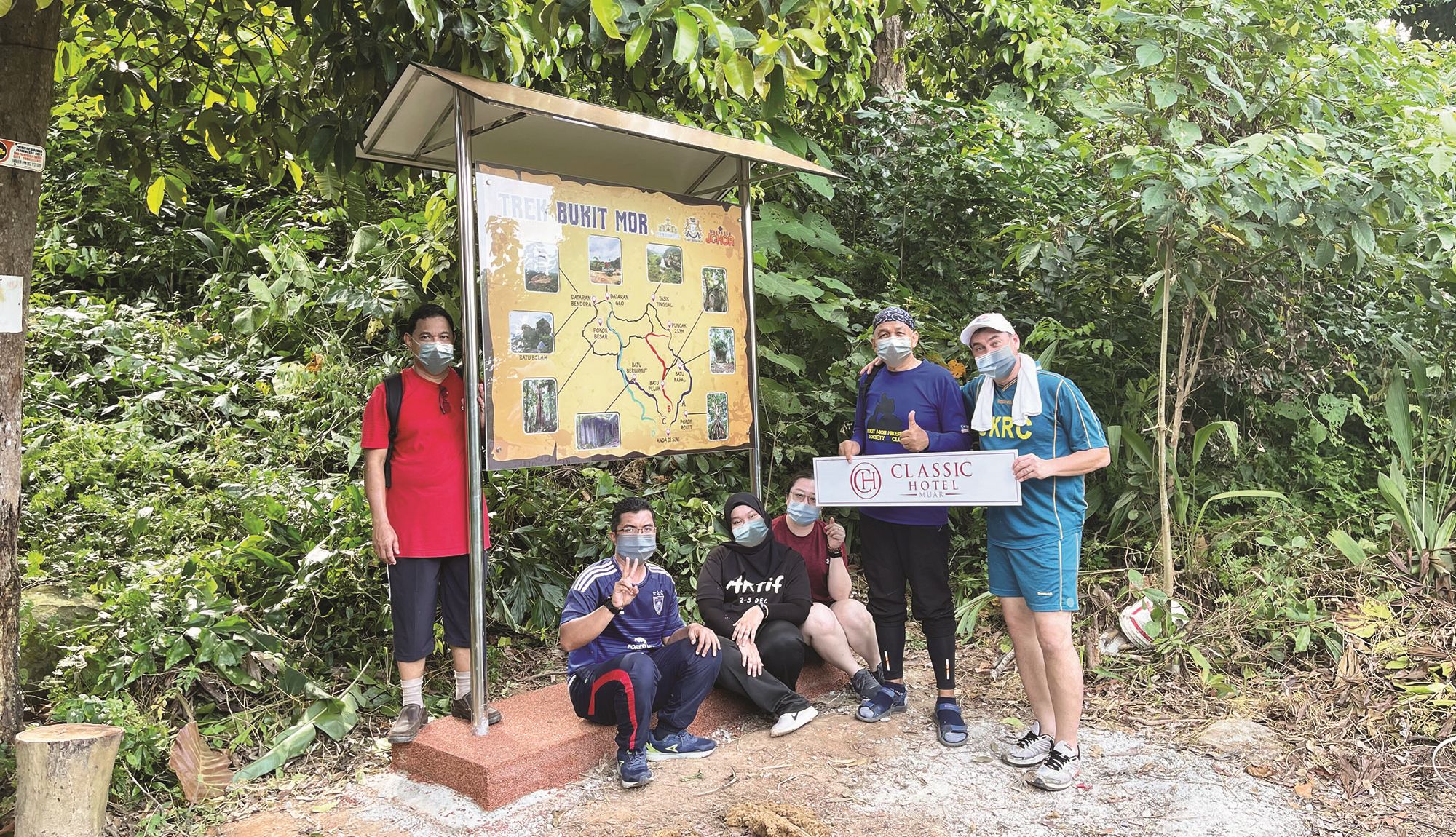 Earth Day Campaign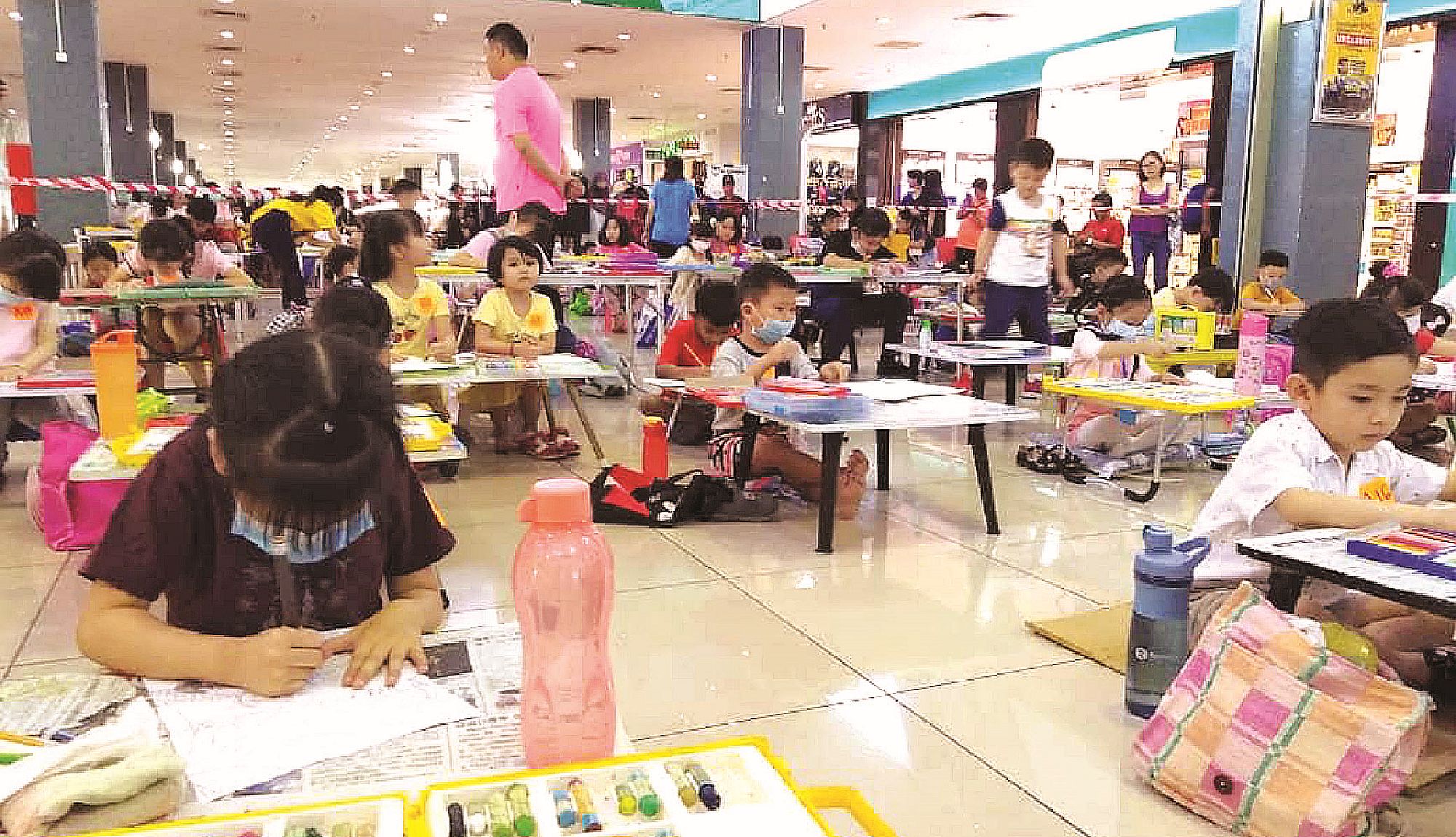 Segamat Central, together with the Junior Chamber International (Segamat Area) organised a "Save the Earth" Colouring Contest on 14 March 2020 to create awareness on the importance of protecting flora and fauna. The contest drew the participation of an estimated 100 children aged from 4 to 12 years old.
The peace Campaign at Segamat Central
Segamat Central and Lions Club Segamat jointly organised a peace poster competition for young children aged from 6 to 12 years old as part of a peace awareness campaign. Children who participated were encouraged to portray their thoughts and creativity on their understanding of peace. This competition attracted the participation of almost 100 children from Segamat.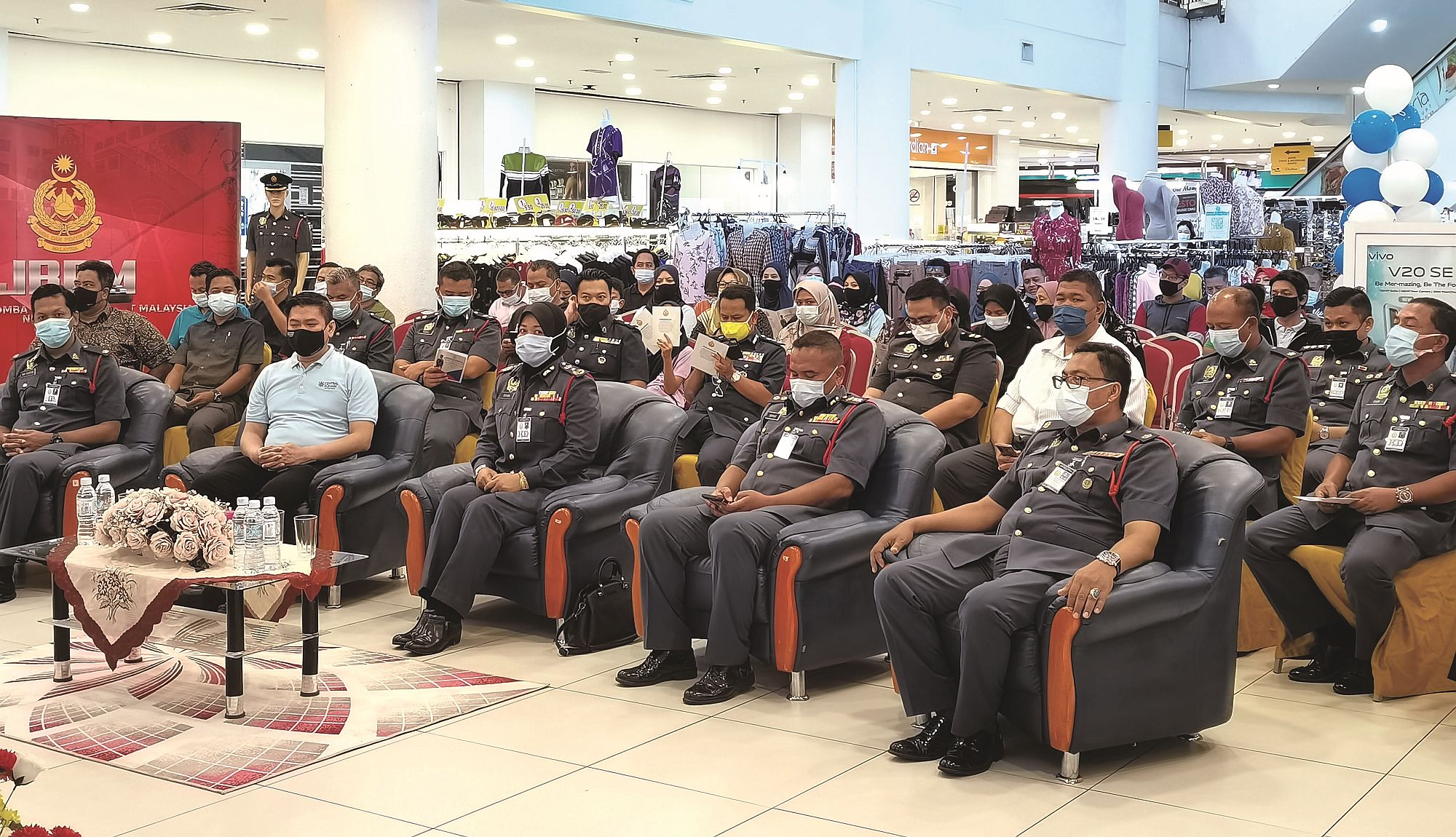 Kempen Keselamatan Satu Rumah Satu Alat Pemadam Api (1RAPI)
On 14 December 2020, Central Square was selected by Jabatan Bomba dan Penyelamat Malaysia Negeri Kedah as a host venue for this campaign. Pengarah Bomba Negeri Kedah launched this campaign with thirty fire extinguishers given to the 'Rakan Pili Bomba' during this campaign. As the main objective of this campaign was to educate people regarding fire safety, the fire department gave a safety talk and briefing to the audience and shoppers as well as a demonstration on how to put out a fire with the fire extinguisher. This campaign was held at the Ground Floor of the mall and on the Main Entrance's service road.
Disability Awareness
Taylor's University collaborated with Subang Parade for their AIESEC- Get Fit Get Inclusive campaign in mid-February 2020 to promote disability awareness and integration of people with disabilities within their communities.
Blood Donation Drive
As the nation went through the MCO, the Conditional Movement Control Order ("CMCO"), the Recovery Movement Control Order ("RMCO") and the Enhanced Movement Control Order ("EMCO") for some areas, the amount of contribution for the blood bank had decreased while the demand for blood donation around the country had increased. In order to continuously support our local hospitals to ensure enough blood supply to help those in need, all centres supported this blood donation drive in compliance with the relevant SOPs during this trying time.
Subang Parade's blood donation campaign was jointly held with University Malaya Kolej Kediaman Kelima in February and March 2020 and with St John's Ambulance in June, July and December 2020. As for Mahkota Parade, four rounds of blood donation campaigns were held with NGOs such as Majlis Belia Negeri Melaka and Lions Club of Melaka, following the new SOP set by Majlis Keselamatan Negara. In Muar, Wetex Parade together with Tabung Darah Hospital Muar held a blood donation drive in June. In October 2020, Wetex Parade joined Koperasi Perniagaan Guru-Guru Muar Berhad (KPGGMB) in carrying out a blood donation drive for Hospital Pakar Sultanah Fatimah.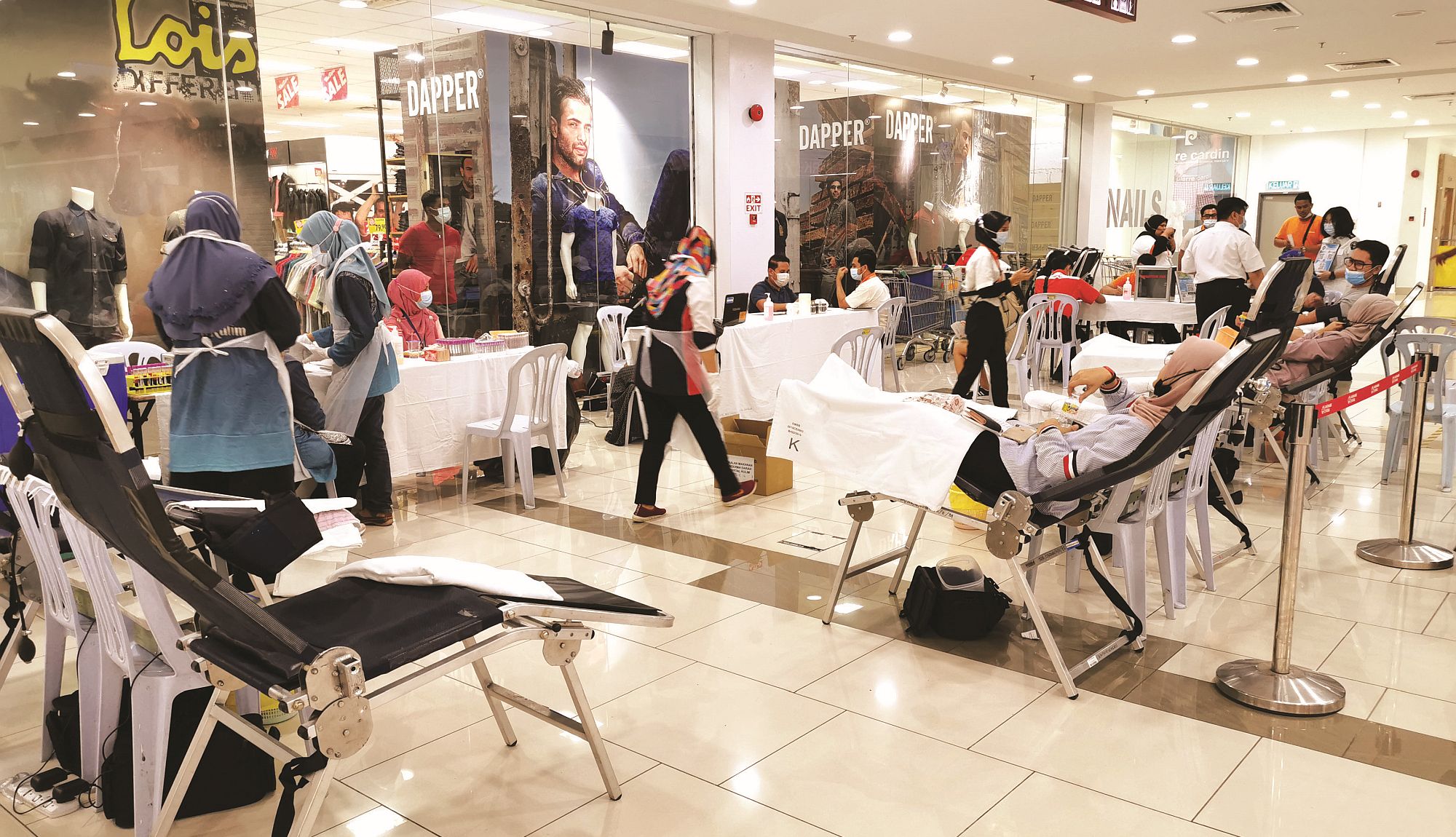 Kulim Central organised a campaign called 'Heroes come in all types and sizes' from March to December 2020 in collaboration with Kulim General Hospital, Blood Bank Malaysia, St. John Malaysia, PDRM, Majlis Perbandaran Kulim, Kedah and Lions Club Malaysia where monthly blood donation drives were held. Segamat Central also held collaborations with Hospital Segamat, Lions Club, Junior Chamber International, Kelab Kebajikan Bandar Segamat Johor, Persatuan Buddhist Segamat, Persatuan Wu, Rotary Opens Opportunity, Persatuan Bulan Sabit Merah and SJAM Johor which saw a total of 12 blood donation drives held in Segamat Central.